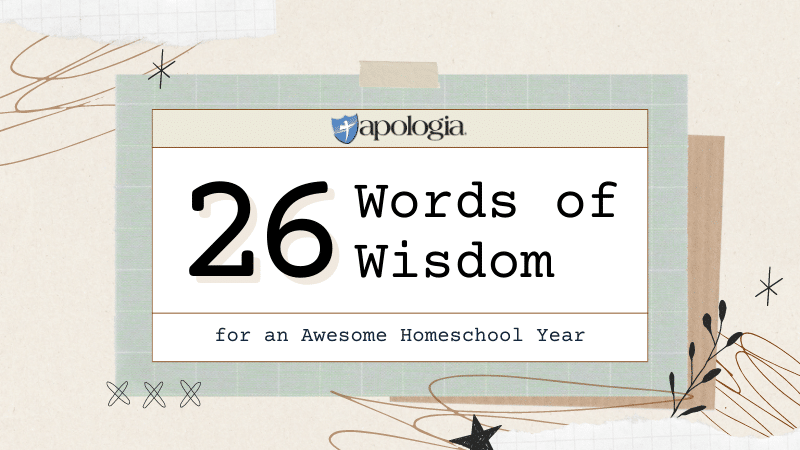 26 Words of Wisdom for an Awesome Homeschool Year
---
I love lists. In fact, I've written several list-style blog posts: 77 Fun, Serious, Obvious, and Obscure Reasons to Homeschool and Five Great Reasons Why You Need to Homeschool Now, just to name a couple. I'm going to assume that you like a good list just as much as I do.  If I'm correct, then read on.
As most homeschooling families are gearing up to start another school year, I present to you the following 26 words of wisdom (gained from my 26 years of homeschooling experience) to help you prepare for an awesome homeschool year! Each point should be self-explanatory. 
26 Words of Wisdom
Go on one more family vacation before this month ends. 

Go on a date with your spouse and talk about your hopes, dreams, and worries. 

Get on your knees and pray. 

Take a deep breath, relax, and exhale. 

Write your thoughts in a journal. 

Make a plan, any plan. 

Yield to God's redirection of your plan. (

Proverbs 16:9 – The heart of man plans his way,

 

but the 

Lord

establishes his steps.)

Ask God to calm your fears and give you peace, joy, and focus. 

Meet with your kids to get their input, hear about their interests, give them words of encouragement, assign new household responsibilities, and involve them in the process. 

Set some reasonable goals for yourself and for each student. 

Select some good books to read aloud together. 

Get back on your knees and say some more prayers. 

Now, go buy some curriculum. 

If a local co-op is part of your plan, register now and sign up for online courses. 

Register for the extracurricular activities you picked for your kids. 

Kick everyone out of the school room and do some cleaning, organizing, redecorating, and nesting. 

Write a special note to each one of your kids. 

Take the whole family to get ice cream and tell them some of the awesome things this new school year has in store for them. 

Take another deep breath, relax, and exhale. 

Give every one of your kids a big hug and tell each one how much you love them. 

Take some fun pictures to document your first day of the homeschool year. 

Prioritize family worship, prayer, and the reading of God's Word. 

Pick a date three-to-four weeks out to take a day off to reassess how things are going and make necessary adjustments. 

Plan a secret field trip and surprise everyone when the date arrives. 

Step away from "school" for the whole week of Thanksgiving and all the way through New Year's Day and just "Do Family." 

Review this list on January 1, and yield to God's redirection again as you enter the new year. 
---
CREATION-BASED RESOURCES FOR YOUR HOMESCHOOL
Apologia is the number-one publisher of creation-based science, math, Bible, and worldview curriculum for homeschoolers, with hundreds of number-one awards. Now that's impressive, but more importantly, that's why Apologia is trusted by families all across the USA and the world.
Visit Apologia.com—a great place to explore creation.
---
ANOTHER RESOURCE THAT IS ABSOLUTELY FREE
Did you miss this opportunity during the Easter season? I wrote an illustrated book about the Ancient Creeds. I believe you'll find it to be beautiful and informative in a way that adds clarity to the Apostles' Creed and Nicene Creed.
---
Homeschooling in the News
In this section, you'll find news and stories that are noteworthy in the world of homeschooling.
A Biblical Response to the 'Transing' of America | Romans
1:18
-28 | Gary Hamrick
In this powerful sermon, Pastor Gary Hamrick calls his congregation to get their kids out of public schools and start homeschooling.
---
The New Face of Homeschooling: Less Religious and Conservative, More Focused on Quality
This article reports that homeschooling among Black families exploded from 3.3% in the spring of 2020 to 16.1% in the school year following.