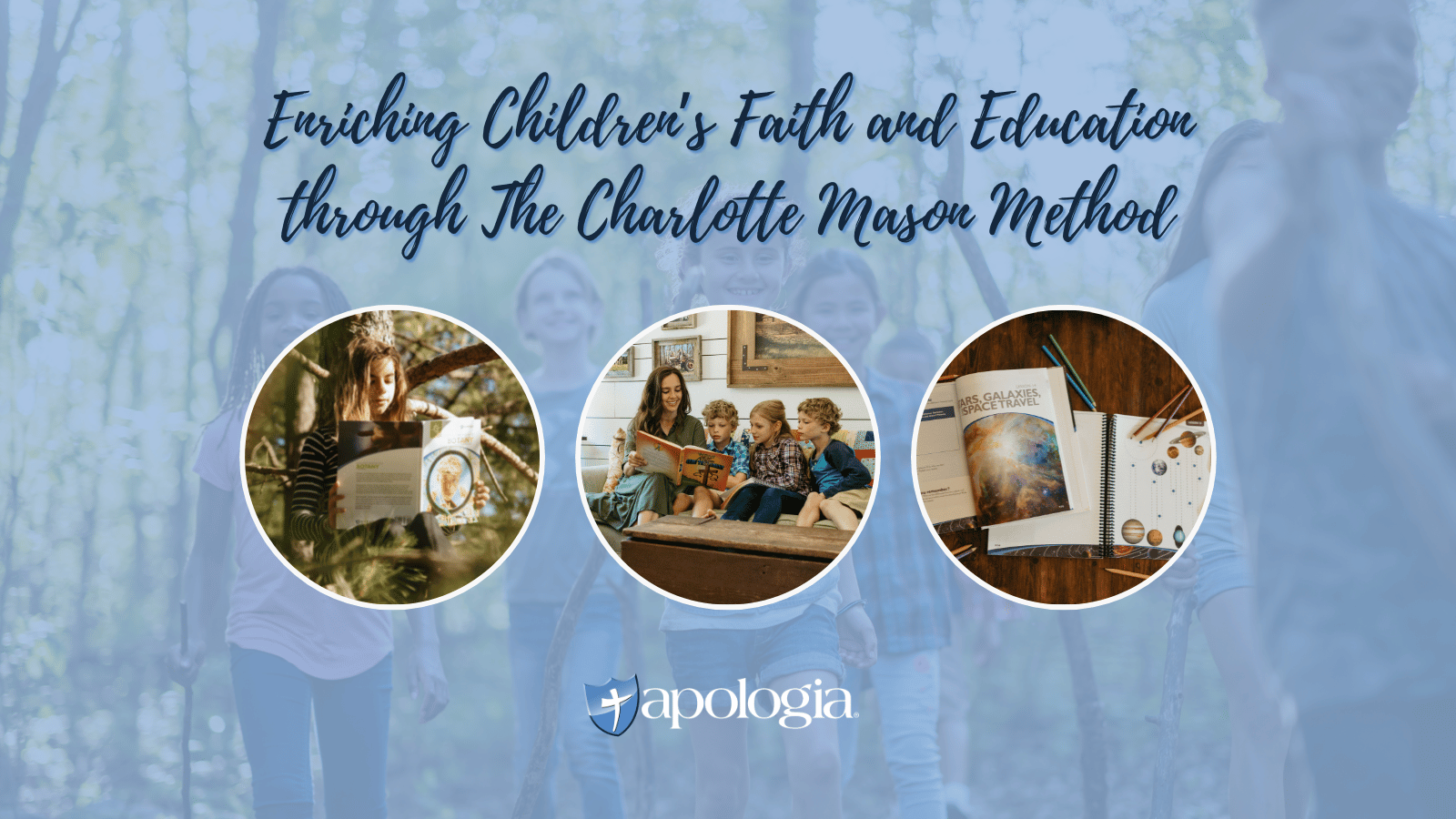 Enriching Children's Faith and Education through The Charlotte Mason Method
---
Chances are, if you're a homeschool mom, you've spent some time researching the various homeschooling methods. It's important to determine the best fit for your family, but it can be a bit overwhelming when there are so many teaching methods to choose from such as Unschooling, Unit-Studies, Classical, Montessori, Traditional, and of course the Charlotte Mason method.
"In some ways, the Charlotte Mason (CM) method borrows some of the best from the Classical method, Unit-studies, and even Unschooling methods to come up with a fairly well proven yet student-directed methodology." – The Best Schools Magazine
At Apologia, we want you to be able to meet the educational needs of all your children as easily as possible, and that's why we publish curriculum that most closely follows the Charlotte Mason method.
Charlotte's method is a three-pronged approach, which involves one-third of a child's education coming from the atmosphere – their home environment, another third from learning and developing good habits and discipline, and the final third from simply living their lives.
Nature study, journaling, Christian-based content, and a curriculum that doesn't require being taught by a professional are some of the key components of the Charlotte Mason method.
If you're familiar with Apologia, you know that our curriculum, particularly our Young Explorers Series, is written in a conversational tone and is designed to be taught in an open-and-go format for families to jump in with little to no preparation. No advanced degrees or hours of lesson planning are necessary!
Our curriculum also encourages the use of surroundings to explore and learn- whether it's using simple, household items for experiments, or going on nature walks to explore God's creation. This encourages a hands-on approach to science and fosters a love of learning by allowing the students to experience science while learning how God and science go together!
This brings us to our next point. All of our curricula, be it science, math, Bible, worldview, or social studies tie into the Christian faith. "Charlotte Mason believed that education enriches our relationship with God, as well as ourselves, ideas, work, and creation." We know that science is so often taught without God, but we believe God's existence is proven over and over the more you learn about our earth.
Finally, our curriculum comes with a notebooking journal. This helps students develop several skills such as putting their thoughts on paper, recording observations, and practicing their spelling, grammar, and handwriting skills!
So, there you have it! With Apologia's Charlotte Mason-style curriculum, your student will not only learn about the subject matter, but they will also improve their thinking and writing skills and grow in their understanding of God, our Creator!
Shop Apologia's award-winning curriculum now, and save 25% off during our Summer Sale-a-bration (through 8/31/23).