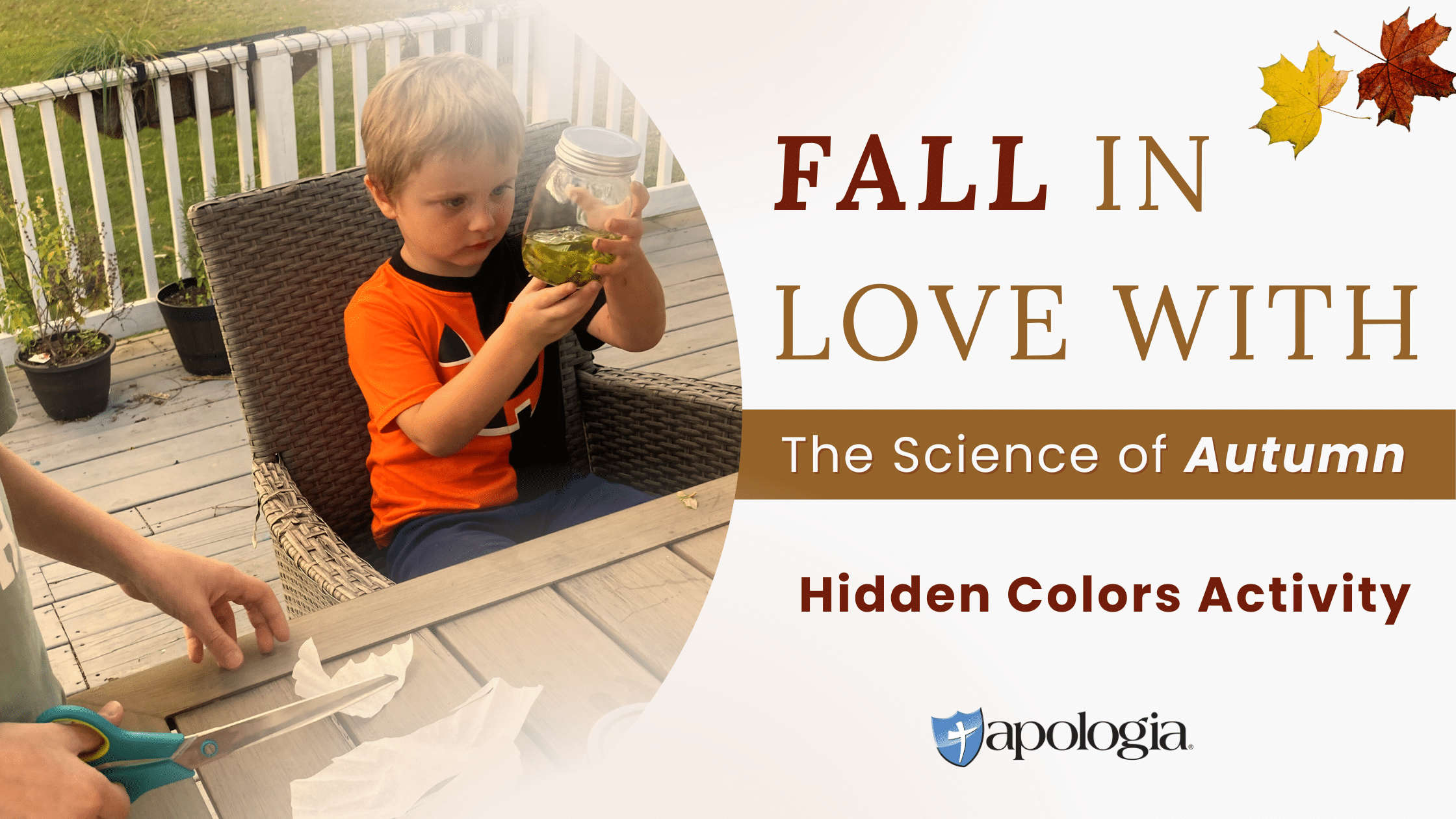 Fall in Love with the Science of Autumn: Hidden Colors Activity
---
Fall is a beautiful time of year full of hidden colors from other seasons. In many parts of the world, its crisp, cool air and colorful trees leave families wanting to spend as much time outdoors as possible. Opportunities for camping trips, bonfires, farmer's markets, and community fairs and festivals show up throughout weekends in September and October, but homeschooling families can also make the most of the season during the week.
---
For everything there is a season, and a time for every matter under heaven:
a time to be born, and a time to die;
a time to plant, and a time to pluck up what is planted;
a time to kill, and a time to heal;
a time to break down, and a time to build up;
a time to weep, and a time to laugh;
a time to mourn, and a time to dance;
a time to cast away stones, and a time to gather stones together;
a time to embrace, and a time to refrain from embracing;
a time to seek, and a time to lose;
a time to keep, and a time to cast away;
a time to tear, and a time to sew;
a time to keep silence, and a time to speak;
a time to love, and a time to hate;
a time for war, and a time for peace.
---
Supply List
Coffee filters (cut into strips that will reach from the bottom of the jar or test tube all the way over its edge)
Fingernail polish remover
Jars (with lids) or test tubes
Leaves
---
Instructions
Have your child collect leaves from a variety of trees. Encourage them to keep track of the type of leaf and its location. (Labeling helps!)
Crush the leaves and put each in a glass jar (with a lid) or test tube.
Slowly add enough acetone to cover the leaves.
Cover the container and let the leaves sit for 24 hours.
Next, place a coffee filter strip into each jar so it is in the acetone mixture and resting over the edge of the glass.
Let it sit overnight.
Ask your child to describe what happened.
Students will easily see colors hidden within other colors—just like the green color of chlorophyll hides a leaf's reds, yellows, and oranges.
---
The Science Behind Hidden Colors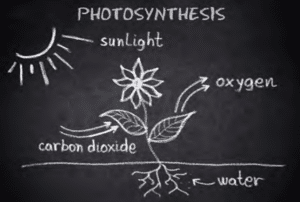 Amazing processes go on in one tiny green leaf. Did you know that the fall's red, yellow, and orange colors are always in the leaf, even during the "green" summer months? So, why do we see only green leaves during the spring and summer? Let's look at the diagram.
The Plant Food-Making Process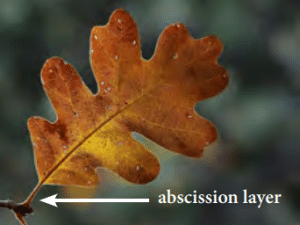 Plants need water, carbon dioxide, and sunlight to produce their food—glucose. They obtain water and carbon dioxide from the air and water from their roots in the soil. This food-making process is called photosynthesis.
Chlorophyll is a substance made in the leaves after capturing light energy from the sun and using it to turn water and carbon dioxide into glucose. Chlorophyll breaks down with exposure to sunlight, so the leaf must continually make new chlorophyll.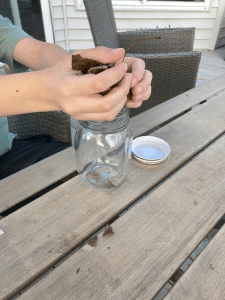 Take a close look at the brown leaf above—especially the base of the leaf where it connects to the branch. There is a layer of cells at the base called the abscission layer—pronounced ab-sizh-en (short a, short e!). This layer contains tubes that carry water and minerals from the plant's roots to the leaves. During the spring and summer, these tubes are open, allowing the leaf to obtain all its nutrients, produce chlorophyll, and produce large amounts of glucose. It stores extra glucose as starch and saves it for the shorter autumn days and next year's growth.
What are these different colors?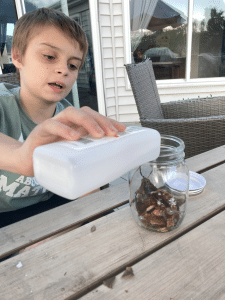 These colors have various pigments within the leaf. Pigments are substances that provide color and are also used to give paint its coloring. The orange color comes from carotene (like carrots), the yellow comes from xanthophylls, the purple from anthocyanin, and the brown from tannin. Mixes of these colors produce the beautiful colors we enjoy each autumn.
Why don't these beautifully colored leaves stay on all fall and winter?
Why can't we enjoy the spectacular show of colors all winter? Like chlorophyll, these colorful pigments begin to break down as they are exposed to sunlight and freezing temperatures. The only pigment that doesn't break down is tannin, so leaves that stay on the trees are brown. Most leaves eventually fall off their tree branches, and some even fall off while still sporting beautiful colors. The connections between the cells in the abscission layer eventually weaken, and the leaves fall off the branch.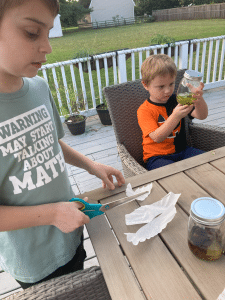 Some autumn seasons bring bright colors, while others are not as colorful. Three things affect the quality of the autumn leaf colors: temperature, moisture, and sunlight.
Cool night temperatures and lots of sunlight produce more anthocyanin.
Early frosts hurt the process that produces anthocyanin, so early frosts end the bright colors.
A drought during the spring and summer months can cause the abscission layer to thicken early, making the leaves fall off before they have time to change colors completely.
The best conditions for a colorful autumn are summers with just the right amount of rain, relatively warm autumn days, and cool nights without frost.