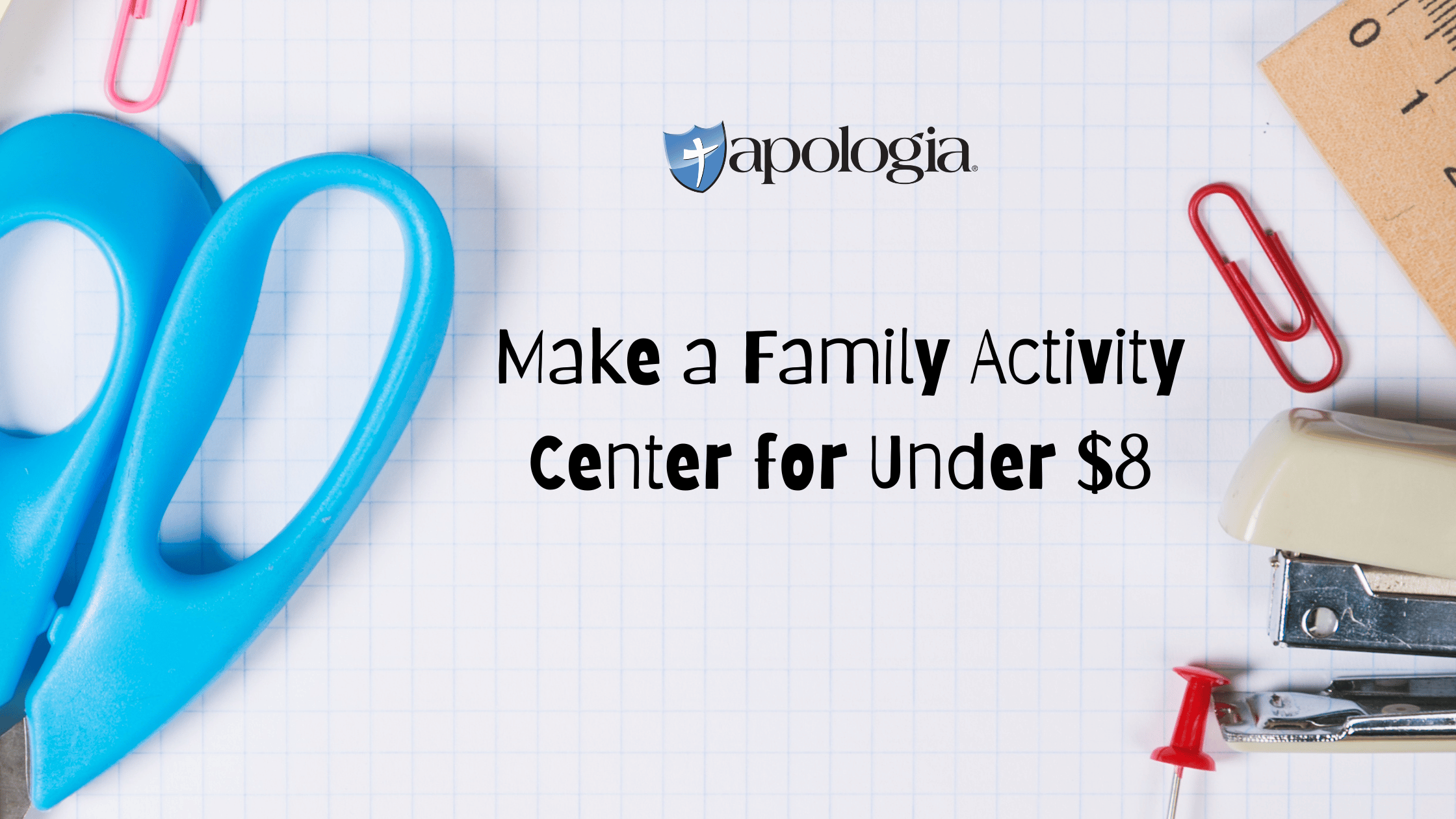 Make a Family Activity Center for Under $8
---
Keep family activity ideas at the ready with this DIY family activity center. For under $8, your memory-making activities will be organized and accessible for you whenever you're ready for them. The frame in our project was a bulletin board with two photo inserts found at a thrift store for $1.50. Conveniently, this family activity center can be used all year with just a few adjustments. 
Materials:
An old picture frame. Check your attic, basement, or closets for a frame. Thrift stores and yard sales are good options. For under $2 you can find just the right size for the designated space (don't pay too much for this part).

String

Small nails or tacks

2 to 3 manila file folders or other sturdy paper to make the pockets

Paper clips or small clothes pins (We found ours near the paper clips at Walmart.)

Paper cut into strips that fit into the activity pockets. These are used to record activity ideas.
Directions:
Remove any photos and glass from the picture frame.

Place two sets of nails opposite each other on the frame. We left about 7" in between the top and bottom nail on both sides of the frame. If your frame is big enough or if you use smaller pockets, iti s possible to have 3 "clotheslines". The third line could be used to attach photos of the activities.

Tie a string between the nails on each of the two rows to make two "clotheslines".

To make the pockets that hold the activity strips, cut the file folders into 3.5" wide by 7" high pieces. Fold the bottom up, leaving about a 1" space showing on the back side of the pocket.

Lightly glue the pockets on each side and allow to dry. Clip these pockets to the string.

Next is the really fun part! As a family, brainstorm activity ideas. Don't forget to include service projects. Other categories: service projects, family game ideas, outdoor activities, devotional topics, recipes, arts and crafts, science projects and journal writing ideas. Check out this blog post for 6 service project ideas.

Identify the category of activities and write them on the pockets.

Write the activity on colorful slips of paper and insert them into the appropriate pocket on the family activity center. If special items are needed for the activity, you can also note them on the back of the card.

Attach clips onto the side of the frame or on another string to display photos from some of the summer activities.

Use self-adhering letters to decorate the frame.

Hang on the wall and enjoy!
You may want to pick activities on an as-needed basis whenever you hear, "I'm bored!" Another option is to select several activities on Sunday evening and plan the week accordingly.
Don't forget to include service projects. One option is to include one service project for every week or two of your summer vacation time.  The service project can be as simple as baking cookies for a neighbor to organizing a puppet show to raise money for charity. For 6 service project ideas, read this article.
You may also want to incorporate family devotionals into the family activities you plan. Who Is My Neighbor? and What on Earth Can I Do?, from Apologia's award-winning What We Believe Series, are great ways to help you and your family become effective servants and good stewards of God's gifts.
Michelle Eichhorn