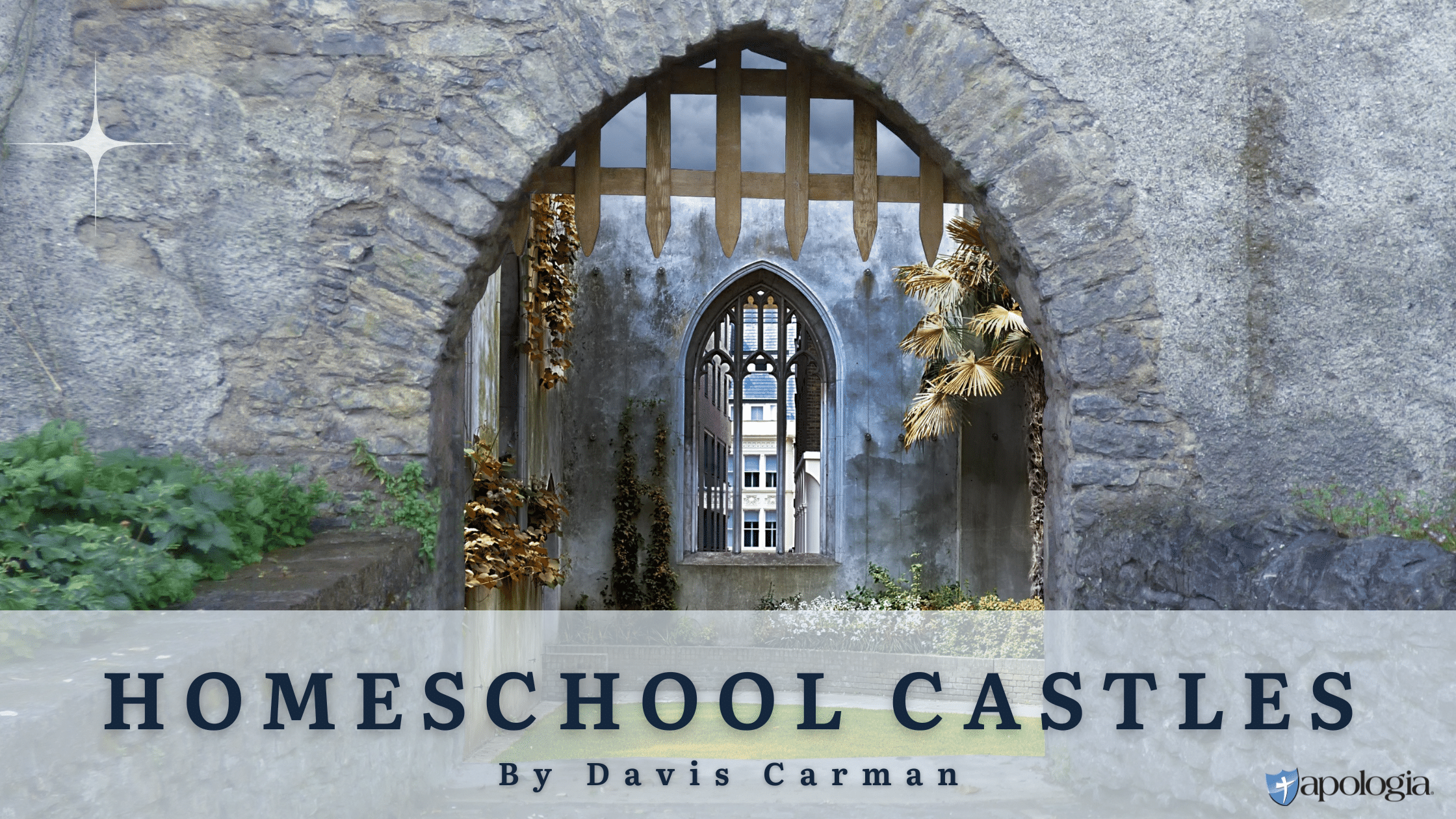 Homeschool Castles
---
The village has been around since the 1700s. The thatch roofs look original and really don't leak. Each "house"—they look more like huts—is placed on a 10-meter by 15-meter lot, enough room for a one-room schoolhouse. This is certainly small by U.S. standards, but outdoor space is also utilized; a small vegetable garden flourishes there. A father in this village walks out the front door of one of these homes, followed closely by his wife and two young daughters. They could almost be mistaken as characters from Medieval folklore with their burlap jackets and British accents.
Not long after leaving the home, all three suddenly stopped and lifted their eyes to something in the distance. Something about their gaze made it seem as though they were reading the stories of old. Their eyes were transfixed as the setting sun, which glimmered on the panoramic landscape, painted a magnificent scene. There was more in the distance, though. Far away, they could see…the castles of Wales.
Homeschool Family Friends
Early in our homeschool journey, we had the privilege of meeting another homeschooling family from Wales, England. They were planning a four-week vacation to the United States and were making their first stop at the Charlotte airport. They would have a long layover before flying to New England, so they planned to visit Niagara Falls, New York City, Boston, and a few other locations. Their goal in Charlotte was to meet a homeschooling family from the USA.
We had a wonderful time visiting with David and Sarah Marks and their two daughters (seven and 10-years-old). Everyone was pleasant, and the conversation flowed smoothly as we discussed many subjects.
The father showed us pictures of their thatch roof house, which was located on a scant 0.03 acres. We discussed life in the United Kingdom and their religious background, and naturally, we asked about each other's homeschooling experience. They chose homeschooling because of the concern about kids in the government schools rebelling and becoming vandals. Even kids in "private and public" schools were not the desirable sort. (Note that the terminology of "public" and "private" schools do not have the same meaning in Europe as they do in the USA.)
Land of Castles
We also talked about the castles. They gave us a beautiful gift—a book on the castles of Wales, England. Wales is often called the "Land of Castles," and rightly so, as it is home to some of Europe's finest surviving examples of medieval castle construction. The Castles of Wales survive today in various conditions, ranging from completely ruined to castles that still serve as stately homes for their owners.
Castles have many features, mainly for the purpose of security or defense. Most people are aware of the moats—deep trenches, usually filled with water, that surround a castle. Another feature is the turret: a small tower rising above and resting on one of the main towers, usually used as a lookout point. The gatehouses are the complex of towers, bridges, and barriers built to protect each entrance through a castle or town wall.
Lasting Generations
Castles are still breathtaking. Do you know that most of them are 700 to 1,000 years old? They don't build things like they used to. Most of them took two to three generations to complete. In other words, if we started building one today, our grandchildren or great-grandchildren would finish the job after we were buried in the cemetery next door.
Building Homeschool Castles
Now, have you ever seen a homeschool castle? Maybe not yet, but you are constructing one right now. I predict that your grandkids will finish the job after you are long gone and dead. Will it be sturdy enough to last 1,000 years? Will it still be beautiful to behold after many generations? Our LORD announced that he would love to bless his children up to 1,000 generations to those who love Him and keep His ways.
but showing steadfast love to thousands of those who love me and keep my commandments.

–Exodus 20:6
Nothing worth doing can be understood today in the context of history. Therefore, we must live by faith. Nothing worth doing can be done in our lifetime. Therefore, we must live by hope. Nothing worth doing can be done by ourselves. Therefore, we must live by love.
Now, work on your homeschool castle. Your great-grandchildren will think it is gorgeous when they gaze upon its view in the satisfying light of the setting sun.
---
Creation-Based Resources for Your Homeschool
Our warehouse is back in stock with all your favorite items, and we're excited to share a coupon code to help you save!
Use code BACKINSTOCK at checkout for 25% off* our restocked items.
*Valid through Nov 30, 2023
---
Homeschooling News of Note
This article from the Washington Post examines the recent surge in the number of home educated students and the diversity within this community.