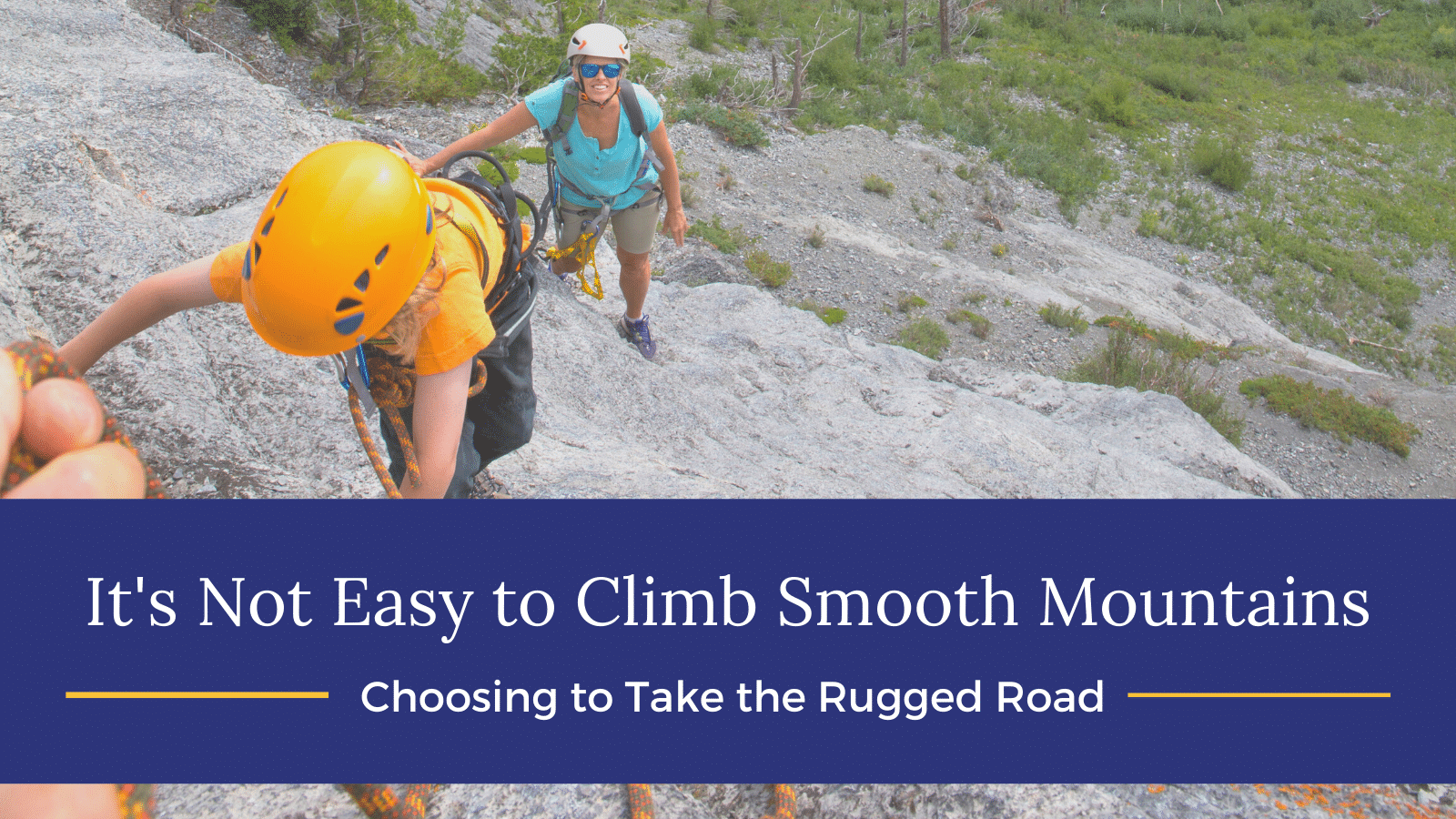 It's Not Easy to Climb Smooth Mountains
---
Our American culture likes things to be quick and easy. Think about breakfast. Cereal with milk takes seconds to prepare, even if you top it off with some healthy fruit. Instant oatmeal gets right to the point: "instant." Just add hot water and…voilà!…your breakfast is ready. There are even some new entries to the breakfast market where you peel off a lid, add an egg, and microwave for 60 seconds, and your veggie omelet is ready — again, all with the goal of quick, easy, and instant.
There's nothing wrong with being efficient, but why do we tend to avoid things that are hard and take a long time to complete? [pause for contemplation]
Now think about homeschooling. If you started this adventure when the kids were in preschool or the elementary grades, you probably experienced a few moments when you glanced ahead and realized you still had eight, ten, or twelve long years left in your journey. It's possible that was overwhelming to think about.
If you're like most homeschooling parents, you also know firsthand that homeschooling isn't easy. Sure, you had a good year or two, but you also had others that made you want to run from the building. If you stopped long enough to analyze the situation, you likely concluded that the rest of your homeschooling journey was shaping up to be long and hard. Is this conclusion discouraging, or do you find it motivating? Maybe it increases your resolve to persevere and do it well.
Long and hard! That's probably not what you want. Like other good ol' Americans, you like, prefer, and — let's be honest — you want quick and easy.
But deep down, you know that educating your kids will not and cannot be quick and easy. It's going to be a long, hard road. Faced with this fact, what's a mom or dad to do?
Well, here's one way to look at it. It's not easy to climb smooth mountains. What do I mean by this? The whole decision to homeschool your kids implies that you want to take your entire family to the top of a mountain. You are willing to make sacrifices and do the hard work of climbing a tall and rugged mountain. Did you hear that? I just said "rugged," as in rocky, difficult, winding, oxygen depriving, cold, windy, and dusty. A mountain is not smooth.
Now stop for a moment and consider this. What if the homeschool mountain you are climbing were smooth? Would that make it easy to ascend? On the contrary. If this mountain were smooth (i.e., easy), where would you find your footing? What would you hold onto? What would give you traction?
I hope you're having one of those ah-ha moments. All those rocks, obstacles, and seeming difficulties are actually "helping" you climb Mount Homeschool. If it were smooth and easy, you would make some progress, then occasionally slide back down. I bet this attempt to climb a smooth mountain path would actually be more frustrating than the work required to overcome the non-smooth pathway. In other words, when climbing mountains, it's ironically "easier" to climb one that is rough rather than one that is smooth.
Long and hard versus quick and easy.
Okay, mom and dad. Let's not sugarcoat this. Homeschooling is hard. It is not easy. And it takes time. You will not get it done in a few years. This is a literal marathon. But guess what? Like any difficult mountain that takes significant time and requires sacrifice to traverse, when you reach the summit, the rewards will be well worth it.
Don't leave your kids to the failing and expensive conventional schools. Help them become independent, lifelong learners. Cultivate a love for reading and learning.
Instill your family values along with moral and religious instruction. Experience true educational success.
Welcome to the most significant cultural, social, and educational movement of the past 50 years. You can do this thing called homeschooling. And it's good — as in really good — for your kids.
Walking by faith and enjoying the homeschooling adventure of a lifetime!


Davis Carman
 A Resource to Help
You are a homeschool hero. As a matter of fact, you are the best, the bomb (that's a good thing), and amazing. Your kids believe in you. Now it's time for you to believe in yourself. Yes, homeschooling is hard and takes sacrifice. But the rewards and blessings are worth the cost. And you have what it takes to educate your kids. You can do this thing called homeschooling.
We can relate to what you are feeling. Rachael and I remember starting reluctantly way back in 1996. Fortunately, Apologia is here to help. We can guide you to success. What's the secret sauce? For one, the textbooks are the teacher. They are written in a conversational style. Plus there aren't any overwhelming teacher manuals.
So don't delay. Get yourself The Ultimate Homeschool Planner right now.
Davis is the president of Apologia Educational Ministries, the #1 publisher of Creation-based science and Bible curriculum. He is the author of five illustrated children's books designed to help parents instill a biblical worldview in the hearts and minds of their preschoolers. He believes that if there was ever a time to homeschool, it is now! You can hear more of what he has to say at the Let's Talk Homeschool Podcast.
© 2022 Davis Carman