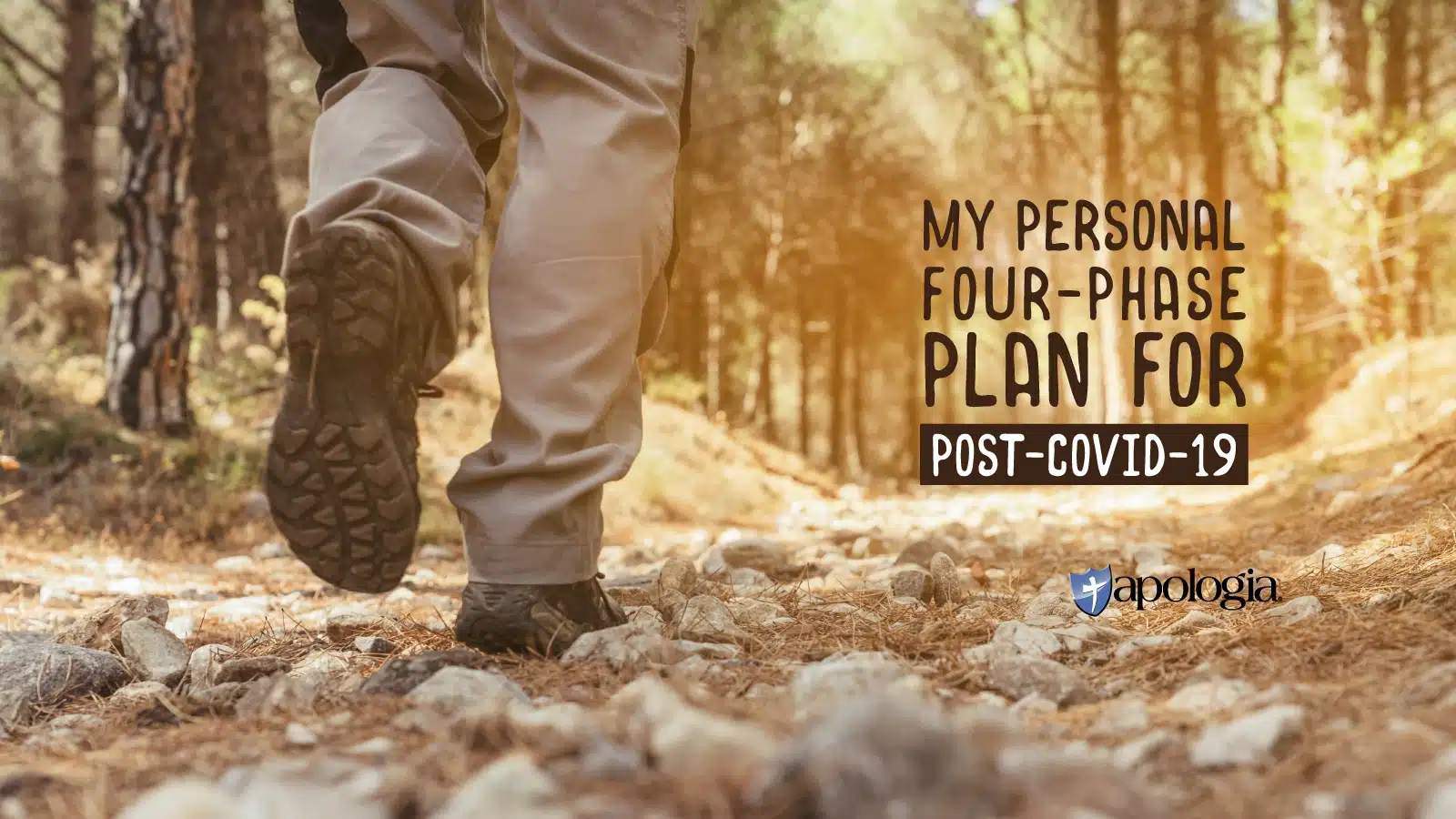 My Personal Four-Phase Plan for Post-COVID-19
---
My Personal Four-Phase Plan for Post-COVID-19
For this light momentary affliction is preparing for
us an eternal weight of glory beyond all comparison.
(2 Corinthians 4:17)
In March, April, and May of 2020, we all got to experience loss. Shelter-at-home orders resulted in all kinds of cancellations. Everyone stayed home and away from school buildings, day care centers, retirement facilities, sporting events, restaurants, gyms, and movie theaters. Even parks and churches were off-limits.
Although these were legitimate losses, the extended time at home with family members had its benefits. Relationships with loved ones deepened. There was margin in life to chill, play games, go on walks, ride bikes, finish projects, read books, relax a little, and even be silly.
There is talk of a new normal. In other words, much like life after 9/11 was never the same, most people sense that things will be permanently different in the months ahead than they were prior to COVID-19. Much of it will be out of our control. But what about the changes that are within our circle of influence?
I've been reflecting on how I'd like life to be after all the stages of reopening our country have passed. I came up with habits I want to make sure are permanently deleted, things I want to keep, activities I want to do more of, and routines I want to add to my life. Here's my personal four-phase plan.
PHASE 1
What I Want to Delete
Delete all sweets after 3:00 p.m. (Yes, I have a sweet tooth.)
Delete all the chai teas after that refreshing first mug in the morning
Delete all bedtime TV watching (except Blue Planet on Saturday nights)
PHASE 2
What I Want to Keep
Keep journaling and writing devotionals
Keep doing science and math with my teenage sons
Keep going to bed early
Keep a Sabbath rest on Sunday
Keep lingering at family meal times with long conversations
Keep only one night each week to eat out
PHASE 3
What I Want More Of
There have been a few good things that I was already doing before COVID-19. It turns out that I was actually able to do more of these, probably due to the efficiency of not spending so much time in a car driving from place to place. In the months ahead, I'd like to not slack off to my pre-COVID-19 frequencies. I liked doing more of these and would like to keep up the pace, and even work to increase to a new level.
Increase the number of days I exercise each week
Increase the length of my morning devotional times
Increase the number of nights I read at bedtime
PHASE 4
What I Want to Add
These are what I call the "plus ones" in life. Here's what I mean. Sometimes I look at my list of things to do, goals to pursue, or improvements to make, and the list can be overwhelming. It can be paralyzing because of the scope or quantity. It can be hard to take that first step.
But just like how the secret to eating an elephant is "one bite at a time," another way to look at it is this: What one thing can I do now? That's your "plus one." If you just add one more thing to your repertoire, then you are making progress in the right direction. And now your list has one less item to complete. After a few small victories, the snowball gets bigger. You feel encouraged by your own accomplishment. You have momentum on your side. Your motivation increases. And you're working on another "plus one" from the list.
So, here's what I'd like to add.
Add mountain biking to my weekly routine
Add learning to solve the Rubik's cube
Add enjoying the drive to and from places
Add another day of prayer and fasting
Dear Father in Heaven,
It's good to know that You are sovereign. Your mercies are new every morning, even when an unexpected pandemic like the coronavirus sweeps across the world. As life changed quickly, You allowed me to experience a life with more margin, more time at home, more shared family moments, and more time to be still and know that You are God. I thank You for these new mercies. And as I prepare for life in the near future, I really don't want to go back to any old habits that provide little value. I want more of You, and I want to add those things that point me to You, and draw me closer to things eternal.
In Jesus' Name. Amen.
Walking by faith and enjoying the homeschooling adventure of a lifetime!


Davis Carman
Davis is the president of Apologia Educational Ministries, the #1 publisher of Creation- based science and Bible curriculum. He is the author of five illustrated children's books designed to help parents instill a biblical worldview in the hearts and minds of their preschoolers. He believes that if there was ever a time to homeschool, it is now! You can hear more of what he has to say at the Let's Talk Homeschool Podcast.
© 2021 Davis Carman