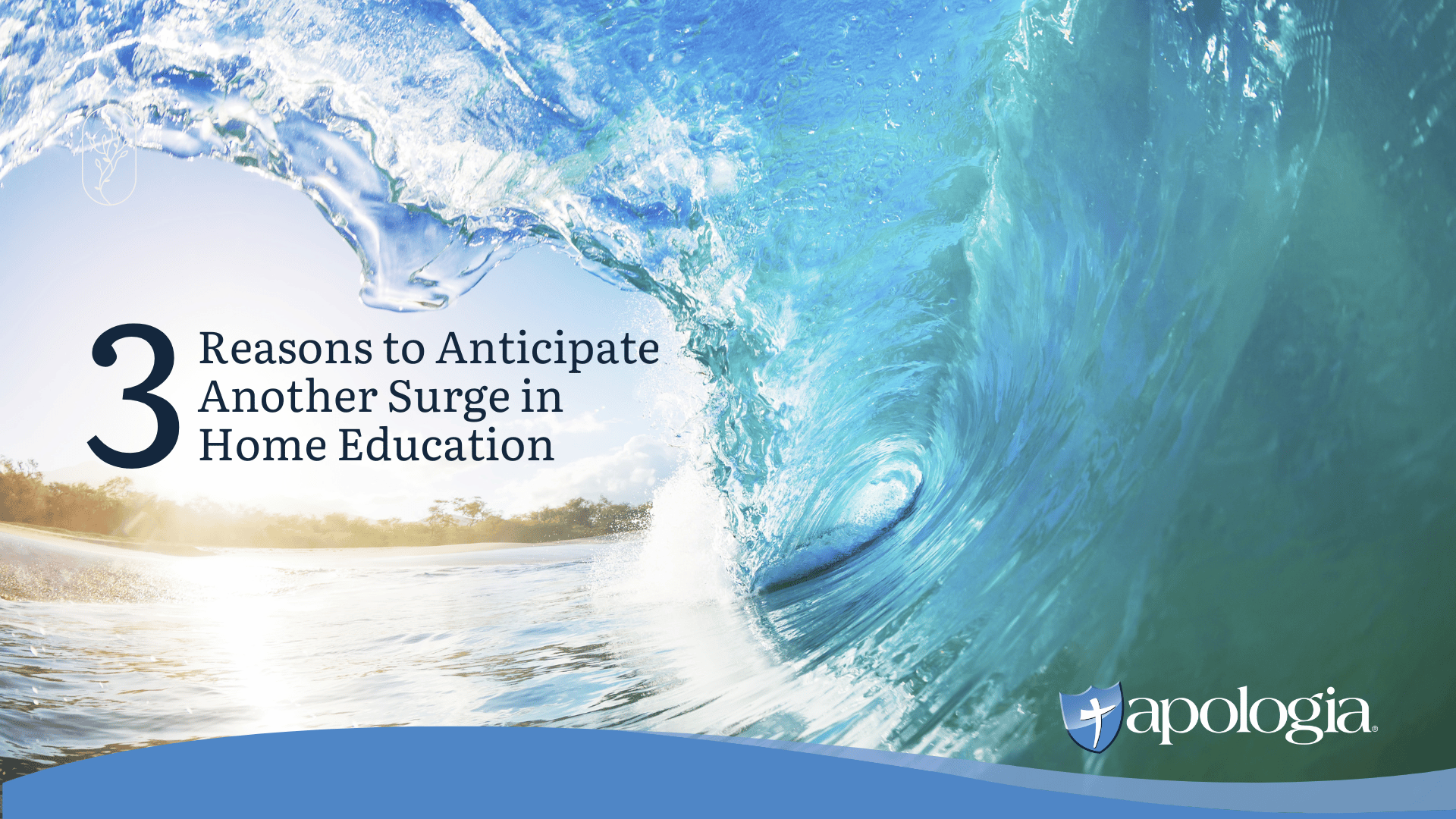 Three Reasons to Anticipate Another Surge in Home Education
---
According to recent articles from The Epoch Times and The Daily Wire, public schools in America might face a severe teacher shortage in the 2022–2023 school year. I have to think this will cause many families to reconsider sending their kids to these institutions. For one thing, public schools are already failing to provide an adequate education in the basics (reading, writing, mathematics). They were unable to meet the educational needs of students during the pandemic-laced school year (2020–2021). Zoom fatigue and an impersonal context left students in limbo when it came to learning. The next year (2021–2022) presented many more serious concerns as parents scrambled to resist and fight a woke agenda in order to protect their young, impressionable, vulnerable kids. One result was a surge in the number of families choosing to educate their kids at home. 
Will an impending teacher shortage cause another spike in homeschooling? I happen to think the answer is a resounding "yes," for more reasons than just a teacher shortage in public schools. As I look back at the growth of homeschooling, I see a few noteworthy trends. Let me elaborate. 
In 1999, the National Center for Educational Statistics (NCES) released its first report on the subject of homeschooling. The top reason people cited for making the move was to provide a better academic education for their students. This confirms that for 23 years or more, it's been well known that public schools have failed when it comes to academic instruction. 
The NCES published its second report on homeschooling in 2003. The homeschool population grew 29 percent in these four years (compared to near zero growth for private institutions—the other viable option). This time the top reason families decided to bring their students home was concern about negative socialization. Often, this was the first question critics asked homeschoolers: What about socialization? Well, it turns out that 19 years ago, this was the main reason to opt out of the system and start a homeschooling journey. 
A third NCES report was released in 2007. The desire to provide moral and religious instruction jumped dramatically in the list of reasons to homeschool. The student population grew 37 percent —significantly more than the previous four-year period. 
One year later, in 2008, the economy slumped and we entered a recession. One result was that families could no longer afford the expensive price tag of private education. Parents place a high value on the education of their kids. And as families contemplated what to do, many chose to homeschool, producing another noticeable increase in the homeschool population. 
Fast-forward to the spring of 2020 complete with COVID lockdowns. For the first time in history, all 60 million US students were homeschooling or doing some form of school-at-home. I like to say that parents and students experienced a mandatory trial run of homeschooling — a required test drive. Paradigms shifted and stigmas were removed. With actual experience during a two-month time frame, millions of families realized they could do this thing called homeschooling. And they observed firsthand that it was good for their kids.  
Mid-pandemic, traditional schools failed to meet students' educational needs. The impersonal context of instruction, with Zoom fatigue layered on top, impeded students' learning in 2020–2021. When kids returned to school this past year, parents faced more serious concerns in fighting the woke and liberal agenda pervasive in public schools. 
This brings us to the upcoming 2022–2023 school year. The people behind the woke agenda are becoming more overt and aggressive. The impending teacher shortage will cause all sorts of new problems for public schools. You got the woke agenda and a teacher shortage. Let's add a third issue: The economy is tanking. Many financial experts warn of a looming recession. It's one thing to battle inflation and the burdensome price increases on everything from food, housing, and transportation to gasoline and other energy sources. It's quite another to face an expensive private school tuition when one or both parents lose their jobs. 
Yes, I'm a believer, advocate, and proponent of home education. Naturally, I'd love to see more families choose this ancient and proven path and find rest for their souls (Jeremiah 6:16). Between the woke agenda, a teacher shortage, and a recession, I predict another significant spike in the homeschool population this fall. 
I'll be so bold as to put a number to this prediction. Prior to the pandemic, there were roughly three million homeschool students in the USA. By the fall of 2020, that number doubled to six million students. And that was after 12 million to 24 million families seriously considered stepping out in faith and homeschooling. This means 9 million to 21 million didn't get over the hurdle. Considering numbers as significant as these, I think it is absolutely reasonable for another three million to decide enough is enough and finally say "yes" to the most significant social, cultural, spiritual, and educational movement of the past 50 years — the modern-day homeschooling movement. 
You can do this, and it's good for your kids. I hope to see you in the community this fall. We're here to help you have the most satisfying, successful, family-oriented, Creation-based, and Christ-centered experience possible. 
Resources to Help
Are you concerned about what your kids believe about God, His Word, and His creation? How can they learn that science and faith are compatible with each other? Will the curriculum you choose draw your kids closer to the Lord or lead them to pull away? For example, don't most science courses teach evolution as fact? These are legitimate concerns for Christian parents. Sadly, research shows that 60 to 70 percent of children who grow up in Christian homes become skeptics or reject the faith entirely after age 18. So you definitely want to find a curriculum that incorporates a biblical worldview.  
Apologia Science could be a great curriculum for your family. The courses are Creation-based and written to the student in a conversational style, complete with notebooks and optional audiobooks or video instruction. There are eight titles that you can use during the K–6 levels. For grades 7-12, you can choose from 11 titles. Go to Apologia.com — a great place to explore creation. 
This year, we are introducing a brand new science curriculum, developed specifically for preschoolers. It's called Preschool Science – Exploring Creation Together. We're excited about it, and we believe your family will be able to put it to good use. You can check it out here. 
Walking by faith and enjoying the homeschooling adventure of a lifetime! 
Davis Carman 
Davis is the president of Apologia Educational Ministries, the #1 publisher of Creation-based curriculum for homeschooling families. He believes that if there was ever a time to homeschool, it is now! You can hear more of what he has to say at the Let's Talk Homeschool Podcast. 
© 2022 Davis Carman