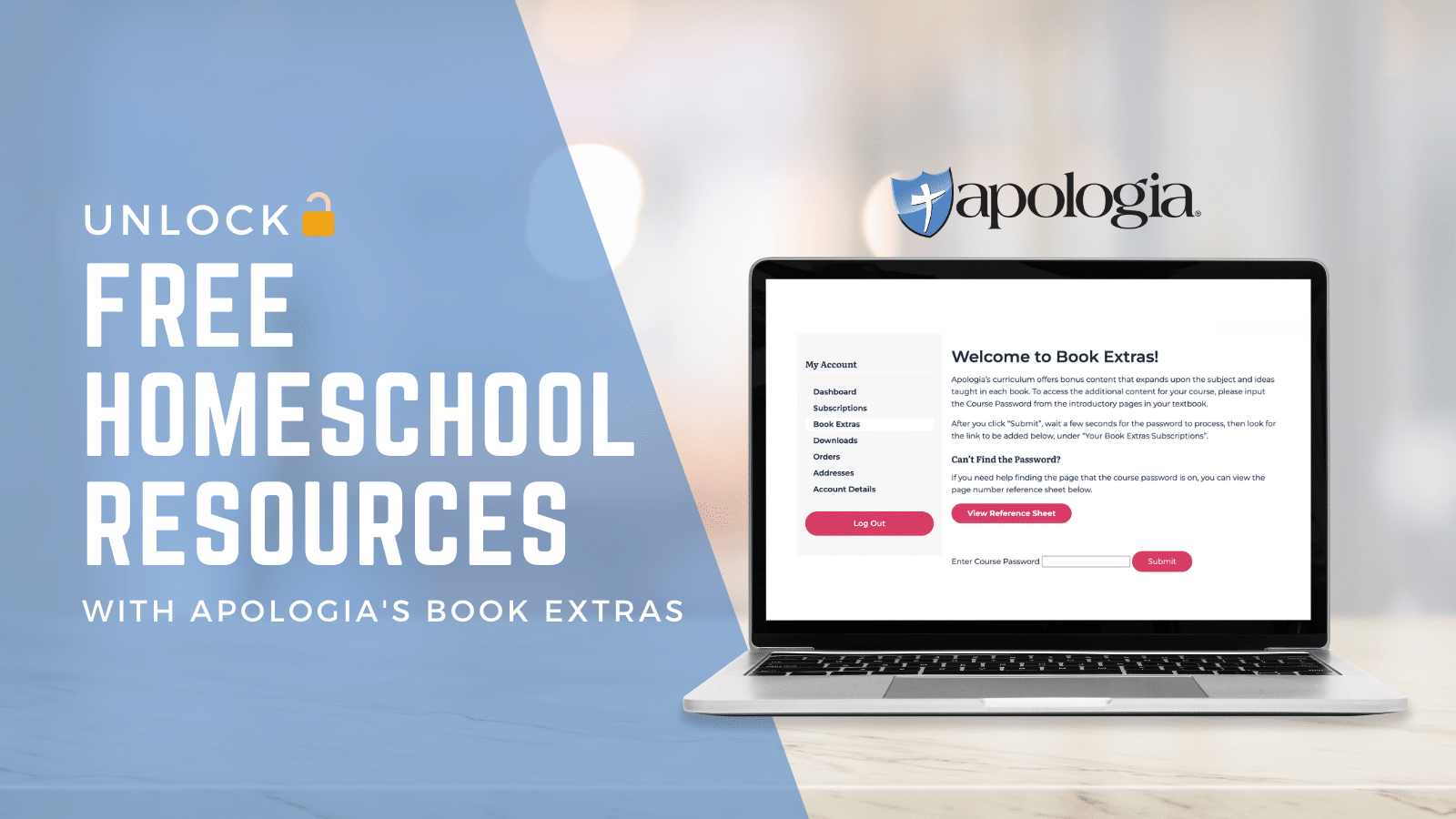 Unlock Free Homeschool Resources with Book Extras
---
I have had the privilege of homeschooling my children for the past nineteen years and counting. With eight children ranging in age from twenty-five to four, there are days I feel like I will be homeschooling till I die. There are also days when I feel as inadequate to the task as the first day I ever opened a planner and attempted to create a lesson plan. Let's admit it – there's nothing better than the thrill of ordering your curriculum for the upcoming school year only to feel like you have to start completely over the following year because you're convinced nothing stuck. This is why I am so thankful for Apologia's creation-based curriculum with its strong biblical worldview. The first time I tentatively opened an Apologia textbook, I knew this was what my children needed. It was what I needed.
But where to begin…
Have you ever sat in front of an open textbook and thought to yourself I don't even know this stuff; how am I supposed to teach this to my child? If so, you're not alone. Nothing can feel more discouraging than to KNOW you are called to homeschool but feel completely inadequate for the task.
Yet, for many homeschool parents out there, that feeling of inadequacy is ever-present. After all, it's hard to be a teacher and a parent all at the same time. But you don't have to do it alone.
In my opinion, one of the best things about Apologia is that they understand the importance of helping parents and co-op leaders feel equipped and confident in their homeschool journey. That is one of the primary reasons they created Book Extras. What are Book Extras, you may wonder? Glad you asked. Every textbook comes with additional resources called Book Extras that expand upon the subject and ideas being taught. Have you ever stayed up late desperately searching for an activity to explain the phases of the moon to a seven-year-old, or tried to find a song about multiplication that you could introduce to your co-op math class the next day? If so, then it's Book Extras to the rescue. Apologia created Book Extras to help take away the time and stress involved in tirelessly searching the web for a subject matter you may not be familiar with. No more spending hours online trying to find additional resources related to your lesson. With the click of your mouse, all that work has been done for you and is easy to find. No matter the subject or the grade, you can find the additional support you need in Book Extras.
If you are attempting to homeschool multiple children in multiple grades like I am, you know IT IS NOT EASY. Thankfully Apologia has created resources to support multi-age family learning. They know that each child is created and blessed with unique learning styles, and they intentionally design their curriculum to reach out to students in multiple ways and draw them into the subject matter. Whether you have a bookworm that wants all the notebooking journals all day long (somehow, I only managed to get one of those out of my eight children) or a student who has to turn everything into a song or a comic strip in order to remember what they learned, Apologia works hard to incorporate all of the many different learning styles into their textbooks with hands-on activities and beautiful graphics to engage the senses. Do you have a child who struggles to pay attention while you're reading over the lesson? Do you feel like you wish you had a fun activity to make your lesson come alive? Are you a Co-Op leader who wants to create an engaging classroom experience for your students? Simply log on to Book Extras, find the module you're studying, and look for a video or an activity to help bring the subject to life in a different way. Book Extras has many free resources, videos, and activities to help you dive deeper and teach with confidence.
Albert Einstein once said, "Learning is experience. Everything else is just information." As homeschooling parents, we get to be a part of creating that learning experience for our children, and Apologia's Book Extras is a valuable tool that we can use to be able to do that well. So you may be wondering, like I often do, so how does it work? Simple. Each Apologia textbook contains a password that unlocks Book Extras bonus content. Use the password in the front of your Apologia book to access the Book Extra webpage for each course. Log in, and you are ready to go.
Whether you are a parent or co-op teacher (or most likely both), below are some tips for utilizing all that Book Extras has to offer.
After reading over the lesson in your textbook, log on to Book Extras and check out what additional links are available to help support your lesson.
Print out any worksheets you may want to use for additional practice.
Look for activity links that will direct you to fun games you can play or crafts you can do to better help your child grasp the subject matter.
Take a few minutes to watch the video links provided and see if you want to incorporate them into your lesson.
Remember, no one knows your child better than you. When you decided to make the decision to begin homeschooling, you did it out of a conviction that this was the best decision for your child. It is so important that when the challenges of homeschooling arise, and they will arise, you remember your WHY. Remind yourself often and embrace the amazing role you get to play in not only your child's education but in their character and spiritual development as well.
If God has called you to homeschool, He will equip you and help you through it. It is a tremendous privilege. Also, remember, you don't have to do it alone. There is an amazing community of homeschoolers out there just like you.
Check out Apologia's Facebook community group – Learning with Apologia Curriculum – and get connected to others who are on this journey alongside you.