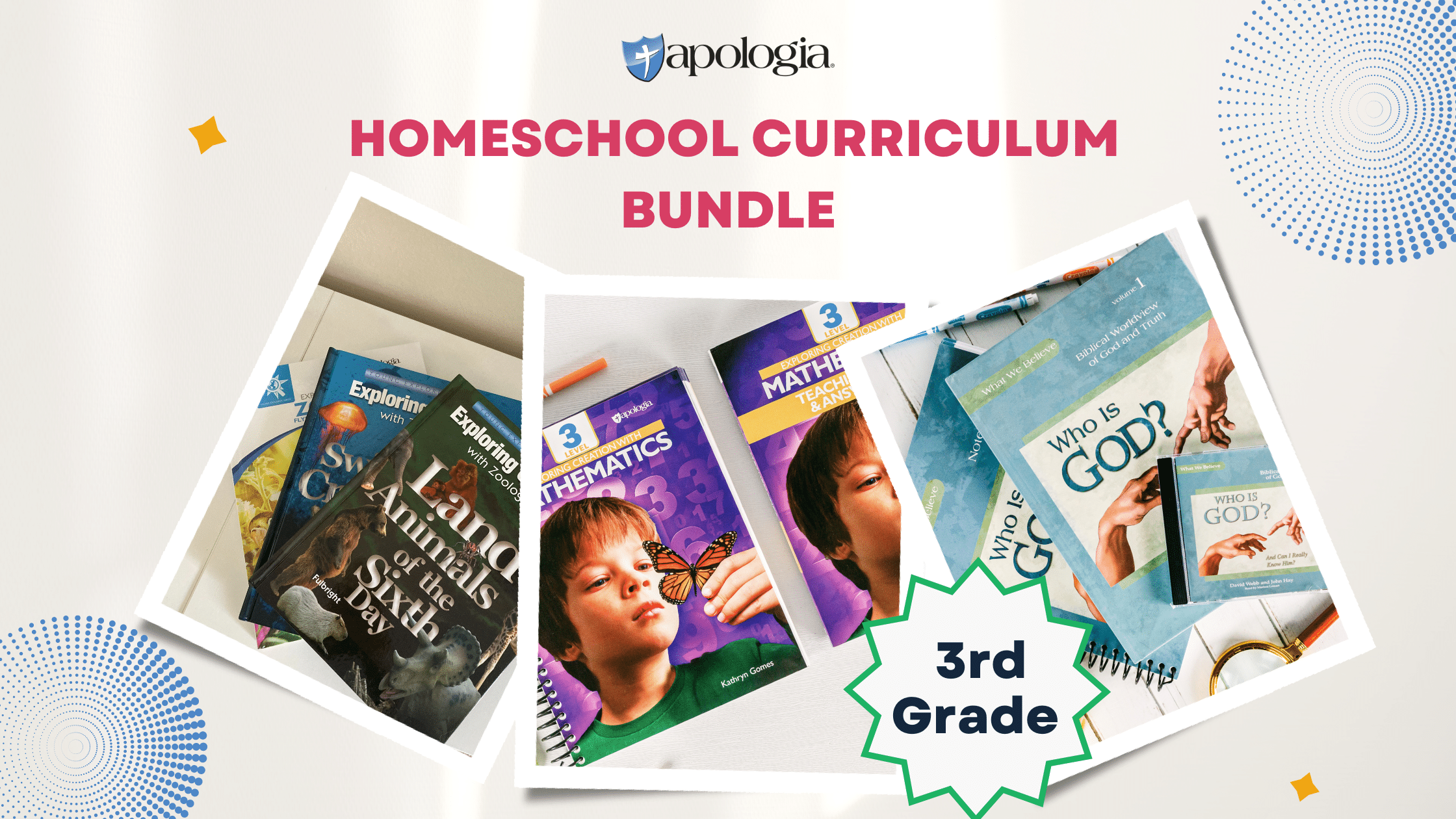 3rd Grade Homeschool Curriculum Bundle
---
Discover 3rd grade homeschool curriculum your student will love with Apologia's science, math, and worldview curriculum. Should you decide to follow our suggested curriculum path, your student will spend the year discovering God's amazing flying and swimming creatures and land animals, diving into multiplication, division, graphing, fractions, geometry, and learning the foundational truths of the Bible!
---
Science
Each of the living books in our Young Explorer Series, written by Jeannie Fulbright, is designed to stand alone- meaning they can be used in any order, which makes them great for use in families with multiple ages. But a popular choice is completing the series in order of Creation.
For third grade, consider using one or more of our Exploring Creation with Zoology books.
After God created plants, he created all the animals.
Genesis 1:20-25
And God said, "Let the waters swarm with swarms of living creatures, and let birds fly above the earth across the expanse of the heavens." So God created the great sea creatures and every living creature that moves, with which the waters swarm, according to their kinds, and every winged bird according to its kind. And God saw that it was good. And God blessed them, saying, "Be fruitful and multiply and fill the waters in the seas, and let birds multiply on the earth." And there was evening and there was morning, the fifth day.

And God said, "Let the earth bring forth living creatures according to their kinds—livestock and creeping things and beasts of the earth according to their kinds." And it was so. And God made the beasts of the earth according to their kinds and the livestock according to their kinds, and everything that creeps on the ground according to its kind. And God saw that it was good.
Your third grader will love learning about God's amazing flying and swimming creatures and land animals. Our zoology curricula include three individual titles: Exploring Creation with Zoology 1: Flying Creatures of the Fifth Day, Exploring Creation with Zoology 2: Swimming Creatures of the Fifth Day, and Exploring Creation with Zoology 3: Land Animals of the Sixth Day.
Each book is designed to last a full year, but you aren't locked into doing so. You can also choose to study parts of all three and make it a year of general zoology or you can choose to complete your favorite two, going through one per semester. As a homeschooling parent, you get to decide what you study, when you study it, and how you study it.
Take advantage of the fun nature of this study by spending the year collecting bugs at the park, building a bird feeder and observing the birds in your yard, going to the aquarium, visiting the zoo, interviewing a veterinarian or strolling through a local farm! The field trips are endless, and you're sure to have tons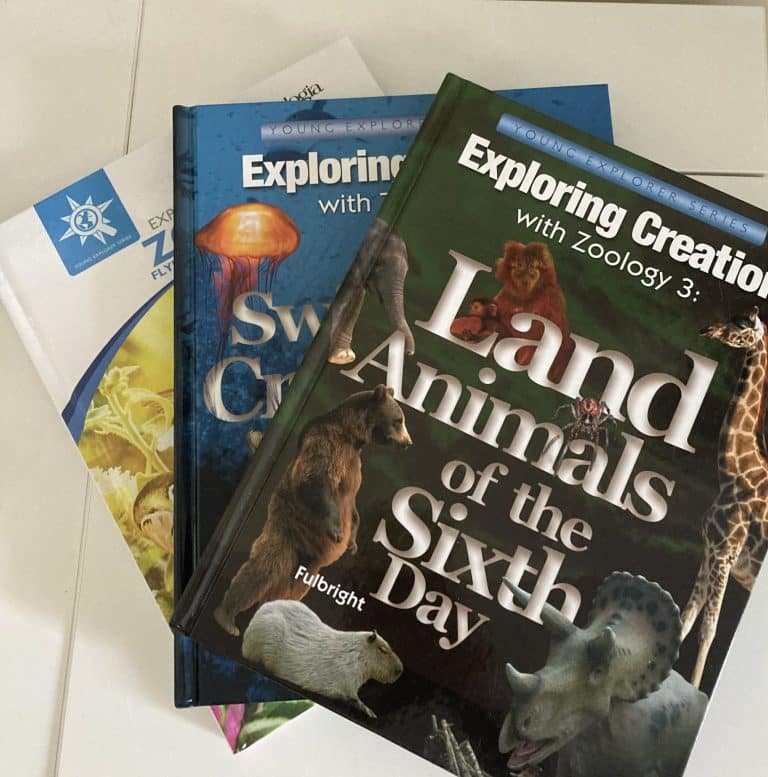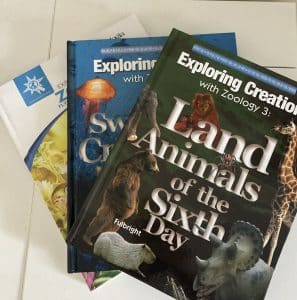 of fun right alongside your children.
📖 In Apologia's Exploring Creation with Zoology 1: Flying Creatures of the Fifth Day, 2nd Edition, students will soar to new heights as they learn about the dynamics of flight and the uniqueness of birds, the value and misconceptions of bats, and the anatomy of insects (they'll even get to collect and study some for a project!). After students complete this study of zoology, they will never view or interact with nature in the same way again.
📖 In Apologia's Exploring Creation with Zoology 2: Swimming Creatures of the Fifth Day, your student will adventure through the waters of the Earth as they learn about aquatic animals and their environments. They'll dive deeper into zoology as they investigate elements of marine life, aqua mobility, filter feeders, currents, fresh water, salt water, the Continental Shelf, and abyssal animals. They'll also gain a deep understanding of whales, seals and sea cows, aquatic herps, reptiles and amphibians, primeval reptiles, fish anatomy and their stages of life, sharks and rays, crustaceans, trilobites, mollusks, sponges, sea squirts, leeches, flatworms, and much more! 
📖 In Apologia's Exploring Creation with Zoology 3: Land Animals of the Sixth Day, your student will be taken on an adventure around the Earth's biomes to explore and understand land animals and the environments they live in. They'll explore jungles, deserts, forests, and farms and even venture into their own backyard to investigate and enjoy the creatures God has created.
---
---
Math
Whether your child has been using a different math curriculum until now or you've been using Apologia Math since day one, Exploring Creation with Mathematics, Level 3 is a great curriculum for any third-grader who enjoys hands-on activities, short lessons and colorful pages that explain the concepts clearly and from a Biblical worldview.
In Apologia's elementar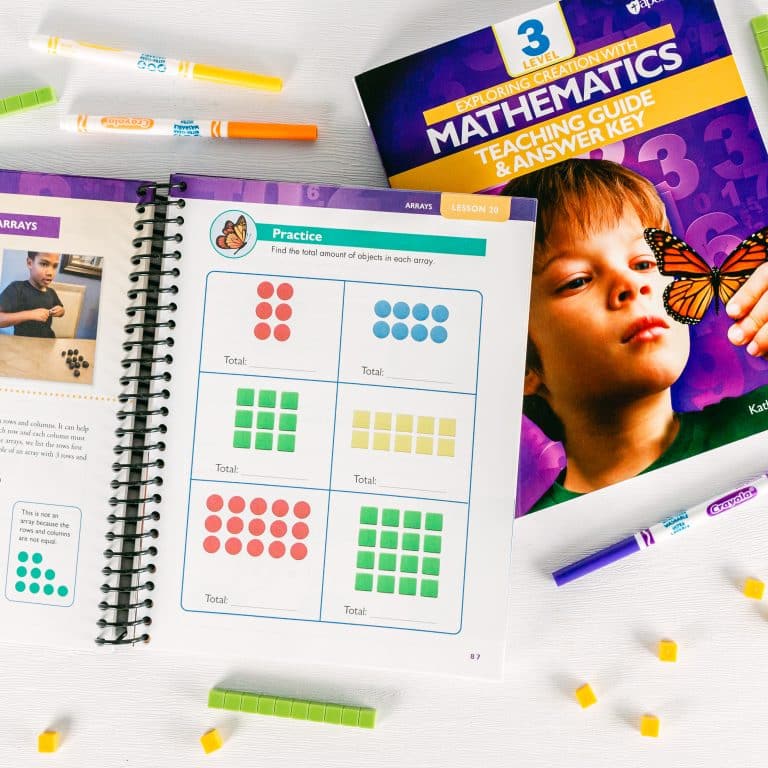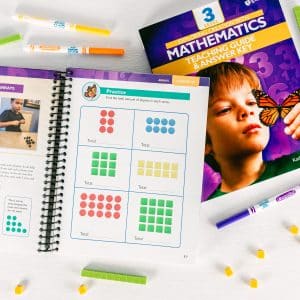 y math curriculum, your student will develop a strong foundation in mathematics using a proven method: the Concrete, Pictorial, Abstract progression. Kathryn Gomes, the author of the Exploring Creation with Mathematics series, has firsthand experience as a former homeschooler, teacher, and current homeschooling mom. Due to her familiarity with the gaps in recent teaching methods, she is well-equipped to address these issues.
📖  In Exploring Creation with Mathematics, Level 3, students will grow more proficient in addition, subtraction, multiplication, and division, and learn more about data collection and graphing, begin fractions and jump deeper into geometry. Utilizing a mastery approach, the curriculum helps your student advance strategically through lessons, projects, and reviews, enabling them to apply the math they have learned to their lives. This series fosters an appreciation for math and will have your child looking forward to doing math every day.
---
---
Worldview
We want to come alongside you, as parents, in raising your children with a strong foundation of faith. We offer enough Bible and Worldview courses to include one as a part of your student's curriculum every year from 1st-12th grade.
If you are choosing to follow our suggested curriculum path, after completing The Word in Motion, your student will move on to our What We Believe series. This is our elementary and middle-school level worldview curriculum, and the first book in this series is called "Who Is God? And Can I Really Know Him?"
This series is a fan favorite for a reason. Enjoy diving into the concepts in this book that will help your child stand firm in their faith as they grow up in a fallen world.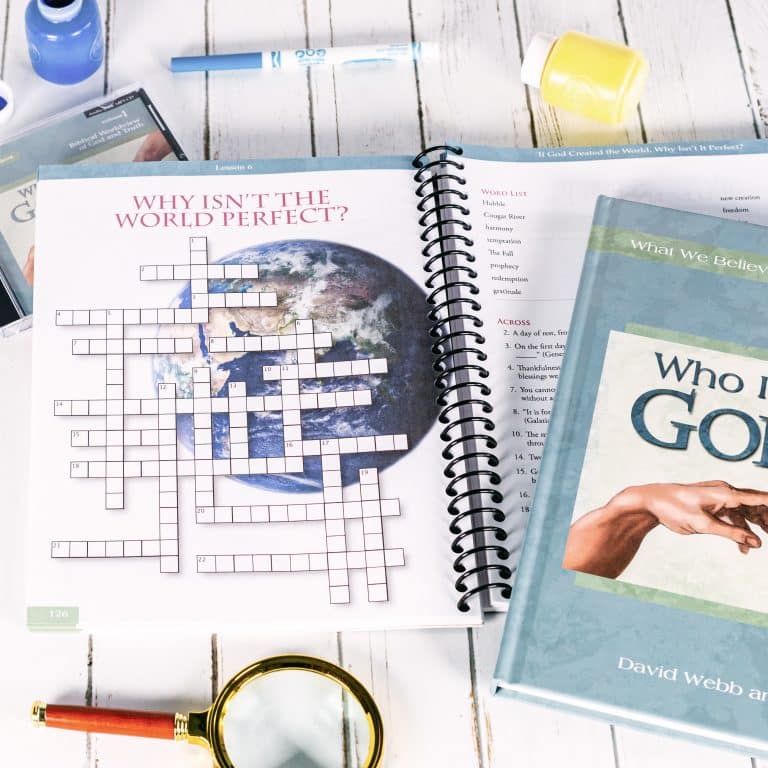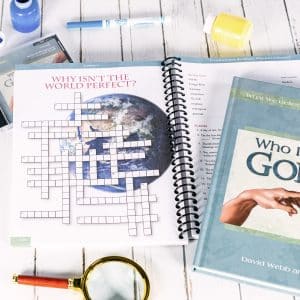 📖 "Who is God? And Can I Really Know Him?" is part of the What We Believe series and serves as a homeschool worldview curriculum for elementary and middle school students. What children believe is important – it shapes who they are and the choices they make. But it's growing more difficult for them to understand what is true. They are inundated with competing messages about truth and every song, show, book and game offers its own version of morality, identity and faith. This course is designed to equip your student with the ability to understand complex and competing ideas so they can stand securely in the truth. 
---
---
Homeschool Helps
We have some excellent resources to come alongside you in your homeschool journey. We hope you will take advantage of this information and that it will bless you and your family in the homeschooling adventure of a lifetime.
Curriculum Path

One of the great benefits of homeschooling is that you, as the parent, can determine what is best for your child and in what order they complete their studies! However, we want to help you make sure your child stays on track; therefore, you can view the Apologia curriculum path for a recommended course sequence (one possible curriculum path option your child can take).

Homeschool Planner

Keep the chaos at bay with our Ultimate Homeschool Planner. Keep your multi-level lesson planning, grade book, goals and prayers for each of your individual children all in one place.
Books for further reading

Co-Op Kickstart Guide

There are many creative ways to teach an Apologia course in a co-op setting, giving you the flexibility to adjust the course to fit your teaching style. Apologia is used in homeschool co-ops throughout the U.S., and our goal is to provide co-op leaders with the resources they need to effectively teach the material to students. Download our Homeschool Co-Op Kickstart Guide for helpful information on getting started.
Homeschool Bootcamp

Take the first step on your homeschool journey! Learn how to succeed at homeschooling with Apologia's FREE Homeschool Bootcamp. In these recorded video sessions, you'll learn practical how-tos, planning strategies, organizational tips, hacks, and tools of the trade from homeschool veterans.