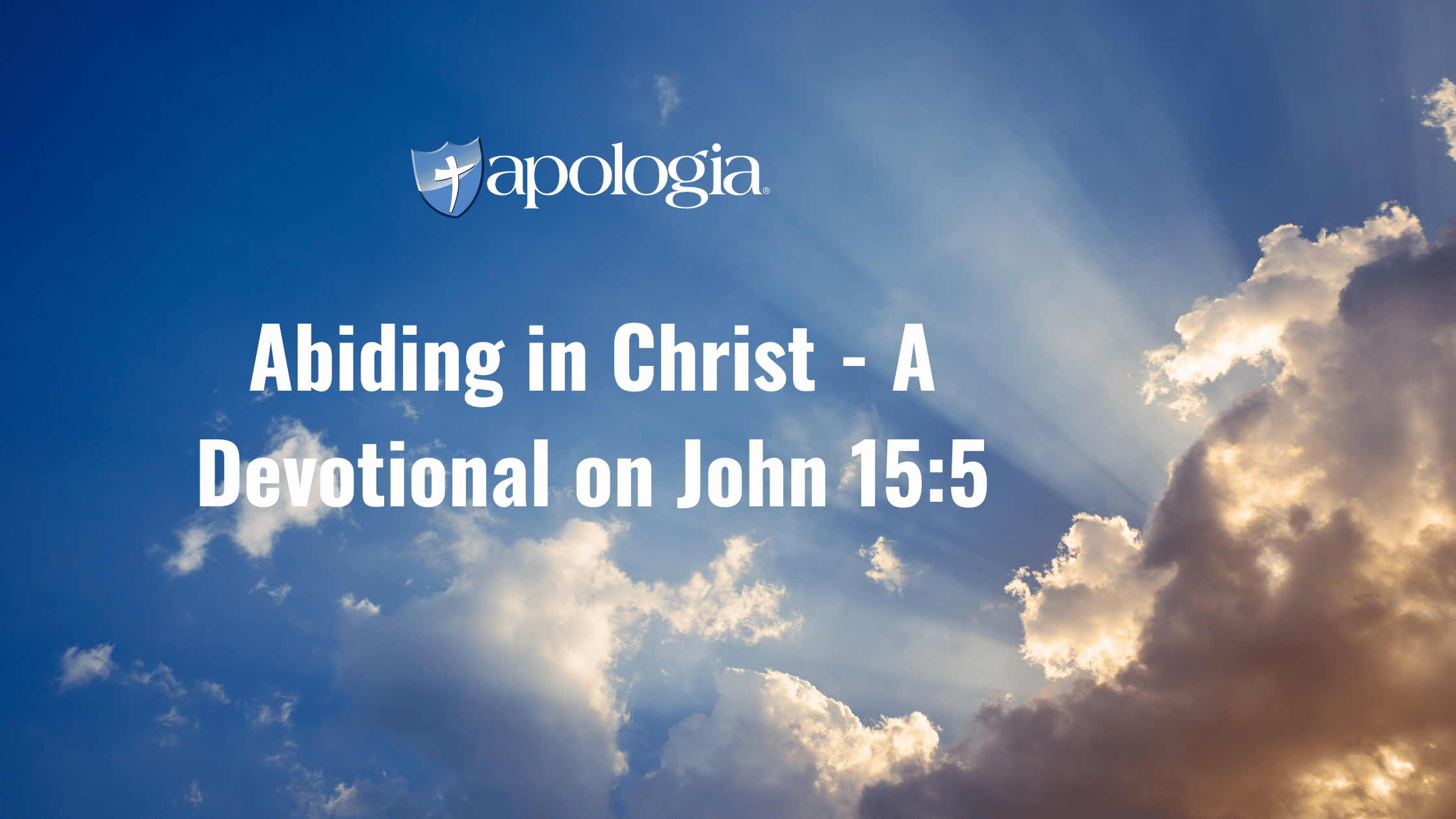 Abiding in Christ – A Devotional on John 15:5
---
The devotional below was written by Davis Carman, president of Apologia and a long-time homeschooling dad. We pray it brings you an encouraging time of meditating on His Word, finding rest, and being confident in your role He gifted you as a homeschool parent.
"I am the vine; you are the branches. Whoever abides in me and I in him, he it is that bears much fruit, for apart from me you can do nothing." (John 15:5)
Jesus never said the Christian life would be all potlucks and mountaintop experiences. As a matter of fact, you will often find yourself in the middle of a tough situation—say, stretching the budget late in the month to pay for both a week's groceries and required materials for the kids' science co-op that meets tomorrow.
As you step up to the plate in this instance, you're feeling the pressure to perform. It's already been a long week. You're exhausted, and the bat feels leaden in your hands. In that moment, you're just praying that God will send someone to pinch-hit for you. And that's when life throws you a nasty curveball in the form of an emergency car repair bill.
Meanwhile, the enemy of your soul is heckling you from the opposing dugout, yelling, "Hey, batter, you don't stand a chance! Life is just too long and too hard. And homeschooling? Are you kidding me? There's no way one person can do it all, but you're the worst! Those kids are being ruined by your pathetic attempts to teach them at home. You may as well drop the bat and hit the showers!"
Now, when you're rested and fresh from a great time of fellowship or morning devotions, it's easy to spot the lies in the devil's taunts. But what about late in the winter afternoon of a particularly challenging day when you're tired and testy and running on fumes?
That's where the power of abiding in Christ comes into play. In John 15, we read that Jesus is the True Vine, and we are His branches. Here we learn the importance of staying connected to the Vine and drawing life and strength from His infinite resources.
What does "abiding" in Christ look like? Praying about everything, feeding on His Word daily, and obediently following His lead throughout the week. It's listening to and singing worship music that helps you to focus your whole being on praising and believing and trusting Him.
Okay, maybe you're not feeling all that spiritual right now. But abiding is not really a position you ever fully attain; it's more about striving to remain. Indeed, desiring to abide in Christ is half the battle.
Keep in mind that there will be seasons when the divine Gardener chooses to prune you, and let's face it, pruning can be painful. But His loving trimming has a purpose: to enable you to bear more fruit. So yield to His tender touch and thank Him in every circumstance. Then hold tight to Jesus and prepare to reap a harvest of peace and righteousness in His perfect timing.
With regard to the challenges of homeschooling, allow me to encourage you: You're doing a great job! You are being faithful to God's call, taking on the work of both parent and teacher. You are also making memories that will last a lifetime. I promise that years from now, you will look back and rejoice that you were obedient to take this road less traveled. Rest assured that your children and your children's children will rise up and call you blessed!
So stand firm at the plate and take your swings with confidence, for it is the Lord God who trains your hands for battle and equips you with strength (Psalm 18:32-34). And with the almighty King of the universe as your captain, how can you lose?
Father in heaven, I want to abide in You. I choose to persevere, whatever my circumstances. Increase my desire to seek You, know You, and remain close to you. Help me to be faithful and not give up when I am tired and weary. Help me to endure Your pruning with grace and strength. Help me to stay fully connected to you, the True Vine, and receive all that You are and all that You desire for me. In Jesus' holy name. Amen.
Walking by faith and enjoying the homeschooling adventure of a lifetime!


Davis Carman
Davis is the president of Apologia Educational Ministries, the #1 publisher of Creation- based science and Bible curriculum. He is the author of five illustrated children's books designed to help parents instill a biblical worldview in the hearts and minds of their preschoolers. He believes that if there was ever a time to homeschool, it is now! You can hear more of what he has to say at the Let's Talk Homeschool Podcast.
© 2021 Davis Carman