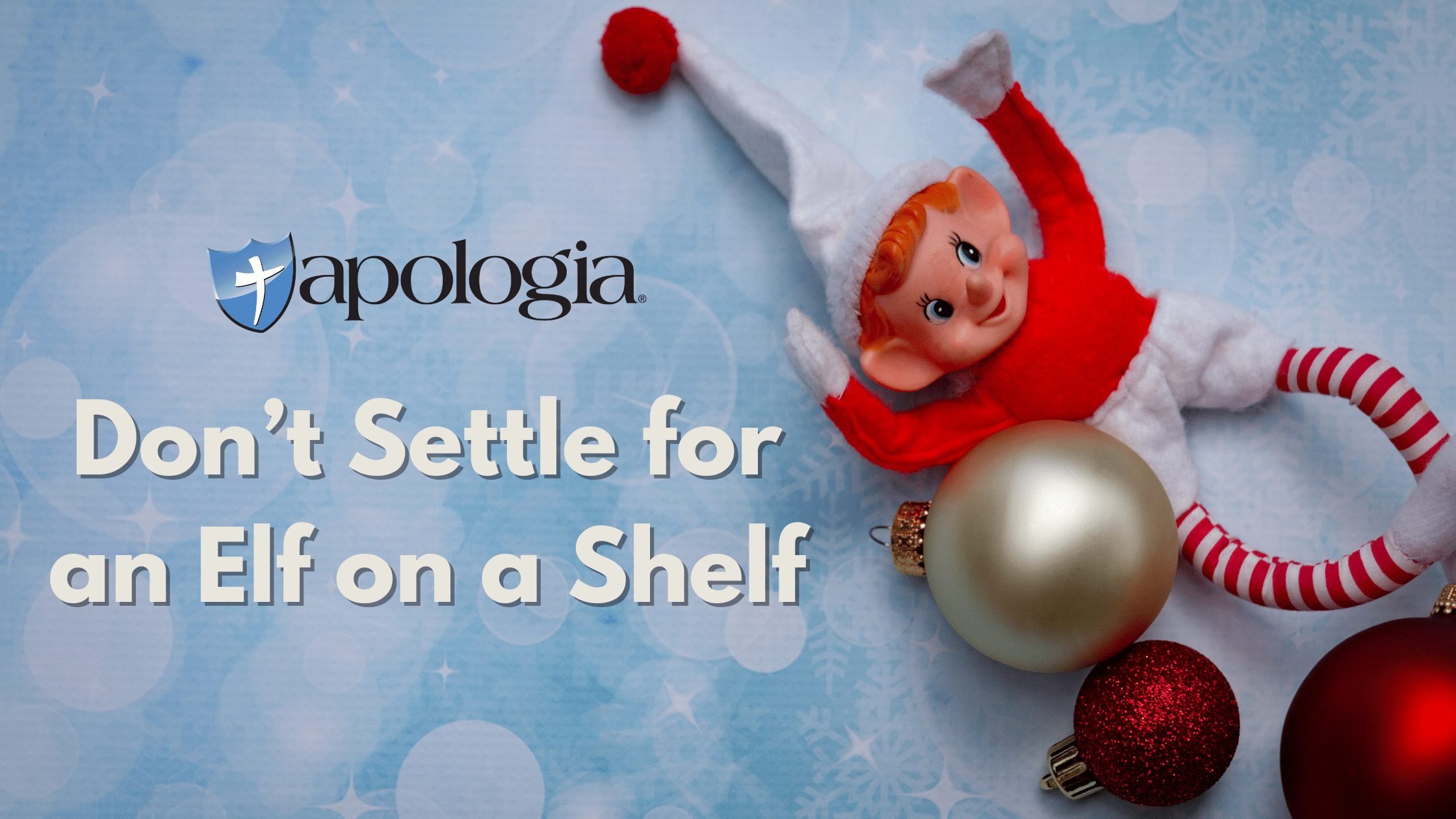 Don't Settle for an Elf on a Shelf
---
We all know the tune "Santa Claus is Coming To Town."
You better watch out
You better not cry
You better not pout
 I'm telling you why
Santa Claus is coming to town
He's making a list
He's checking it twice
He's gonna find out
Who's naughty or nice
Santa Claus is comin' to town (3X)
He sees you when you're sleeping,
He knows when you're awake,
He knows if you've been bad or good,
So, be good, for goodness sake.
Motives Matter
Throughout the Bible, the issue of our hearts matters most.  Examples of people who tried to manipulate God by their outward actions fill page after page. Doing the right thing, acting, and fooling others can only mask a cold, hard heart for a period of time. A point comes when the heart is revealed.
In the Old Testament, Saul tried to manipulate God. The people loved him. He was tall and handsome, a king his countrymen were proud of. He looked the part and had it going on.
Cain tried it. Saul tried it.
Our children deserve more. Seasonal manipulation or lifetime motivation. 
In many homes, an elf is a part of the Christmas decorations. The elf on a shelf is used to keep the kids on the straight and narrow according to the old song, 
It's now that time of year. Kids begin the countdown to the big day. They dream about what they will get, give hints, make lists, anticipate, count packages, and shake them. Parents try to do their best to make those dreams come true – to meet the expectations, so they make lists too. They spend more than they intended to in the emotional rush and pressure of it all. Everyone's stress levels run high.
Parents want to give to their kids, but they also want to be appreciated. They love their kids and enjoy giving things to them and seeing them open the packages. Kids want to get the latest, coolest stuff and know how to work the system. They know that if they behave, they can increase 
Problems that Result
This mentality breeds more problems than I can list, but here are a few:
It removes worship from God to gods. There's no sense in trying to soften this point. Our behavior should be an outpouring of our love and honor to the One who made us. Our actions are our worship. 
It reduces presents to rewards for behavior and links "doing" with "getting." Doing the right things – the things that honor God – doesn't always result in getting good things. Often they go unnoticed, sometimes even taken for granted. When we communicate that good behavior results in getting stuff, we incorrectly represent the relationship between God and ourselves- indicating that He will give us what we want if we behave.
It sets up both parents and children for expectations that cannot be met. If the kids decide to participate in this short-term proposition by behaving, then they expect it to pay off. When the parents set up the proposition, they expect to be appreciated.
It puts pressure on parents and kids- kids to perform and parents to overspend. Everyone loses. The kids can pull off their part; it's only 25 days. The parents can just charge it all and pay it off later. Everyone else does.
It extracts the heart; external actions are elevated. This rewards shallow behaviors.
It breeds manipulation. Kids manipulate parents with acting and emotions. Parents manipulate kids with threats and blackmail. 
It encourages laziness. There is no actual sacrifice made; kids only have to behave for a few weeks, pretending to be nice and kind and thoughtful. Parents just give in and purchase, no need to set a budget to practice self-control. They'll worry about the issues and bills later. Unfortunately, both just continue to pile up.
It pressurizes Christmas – stress levels soar. As the 25

th

approaches, the tension mounts. Kids and parents become increasingly exhausted and anxious.

It hijacks the holiday and casts a shadow over the manger. This whole rush to behave and acquire everything on your list leads to the ultimate commercialization.
It leads to a post-Christmas letdown. On the afternoon of Christmas day, while there is still paper on the floor and before dinner is served, there's a vacuum. Everyone feels it – even if they've received every item on their list.
Behavior without the Heart Change
We want our kids to behave, but are we willing to get the behavior without the heart change? Let's not think for a moment that this doesn't have long-term effects. Let's not fool ourselves for the sake of the season. 
We have an opportunity here to give them a real reason to mature, grow up, be nice, and not pout. And it's not because an elf is reporting back to Santa while they sleep. It's because the God of the universe, the Maker of Heaven and Earth, the one who spoke light into existence, the one who knitted them together in their mother's womb, loves them, and desires a relationship with them. He sent His only Son, Jesus Christ, to pay their sin debt. Jesus not only died on the cross but rose again and is sitting at the right hand of God. 
He is preparing a place for them to come and live with Him forever, and one day He will return to take them home. In the meantime, He gives them opportunities every day to worship Him through thoughts, words, and actions. 
Every day, as they anticipate His return, they can choose to respond to life's circumstances and challenges with kindness, compassion, patience, and generosity – not because they have to or because they are afraid He might strike them with lightning if they don't, but because they want to glorify Him and because they know He is worthy.
I'm proposing that we elevate Emanuel and eliminate the elf. Instead of setting out an elf on a shelf (or anywhere else for that matter), let's remember who God is, why He sent His Son, and what our response should be, not just for a few days but for our whole lives. 
Proposed Alternatives to Elf on a Shelf
Go back and review creation in Genesis 1 – Read the account of the eternal God's speaking life into creation. He spoke, and it was. He delighted in His creation, saying, "It is good."
Talk about Psalm 139 – The God Who knit each of us together. The same God who created the universe knows us intimately. He was not only at the dawn of creation; He was there when each of us was formed. He knows us, and He loves us individually. 
Review Luke 1 to be reminded of who the real Star of Christmas is – They are not the star.  This is actually great news! It's liberating. Christmas isn't about us; it's about Him. It's about celebrating Him together.
Discuss who we are, where He met us, and where we go from here – Make sure to invest in conversations about our natural depravity and His amazing grace. How were are sinful, and He is abounding in love and forgiveness. 
Reread Psalm 23 and be reminded He is enough – David writes, "The Lord is my Shepherd, I shall not want." This means that when He is our Shepherd, we don't lack anything.  He is all we need; there is nothing else to want or desire.  Choose against want and lean into Him. 
Look for opportunities to give to others instead of compiling a want list – We have been given so much. We don't have to look far to see needs we can meet. Look for people and places you can give, serve, share, and sacrifice.
Focus on being kind, loving, generous, hospitable, joyful, and patient. The mantra of this season often drives us to

do

, spend, go, cook, clean, and decorate more. Instead of more

doing

, how about more

being

? Practice Psalm 46:10, and "Be still and know."
Relax instead of race – Read some classic Christmas books, bake cookies, make popcorn, and watch a movie. Go caroling in the neighborhood. Take a bunch of family pictures. Play a game. Solve a puzzle. There's no need to leave the house to enjoy each other and celebrate peace on earth. 
Receive, embrace, and share God's free gift – Jesus & salvation – Spend time talking about God's goodness, His blessings over the past years, the gift of His Son Jesus, and the hope of heaven. Talk about grace, reconciliation, and courage. Share stories of His faithfulness. Tell them over and over again.
Make lasting memories – All of these add up over time and create memories of time together with laughter, fun, and celebration. Through these activities, traditions are created and practiced. Reclaim Christmas.
Challenge
Why not leave the elf in the box this year? Why not talk more about Jesus and His love for us, let His love motivate our behavior, discuss the reality of His presence every moment of every day, and focus less on getting and more on giving?
This proposition takes time, involves intention, requires responsibility, establishes an incentive, and changes everything! Perspective does that. When we determine to look at this life from the vantage point of a blood-stained cross and the doorway of an empty tomb, everything is clearer – our priorities, investments, conversations, hopes, dreams, and lives.
Christmas has a deeper value, which isn't measured by the number of gifts or parties. Let's celebrate it with purpose, intentionality, focus, resolve, smiles, and cooperation. Let's celebrate Christmas with hearts wholly devoted to Him because of the gift of God's Son, born to be the Savior of the world, as we worship and sing His praise, give gifts to others, and enjoy fellowship. Celebrate the season.