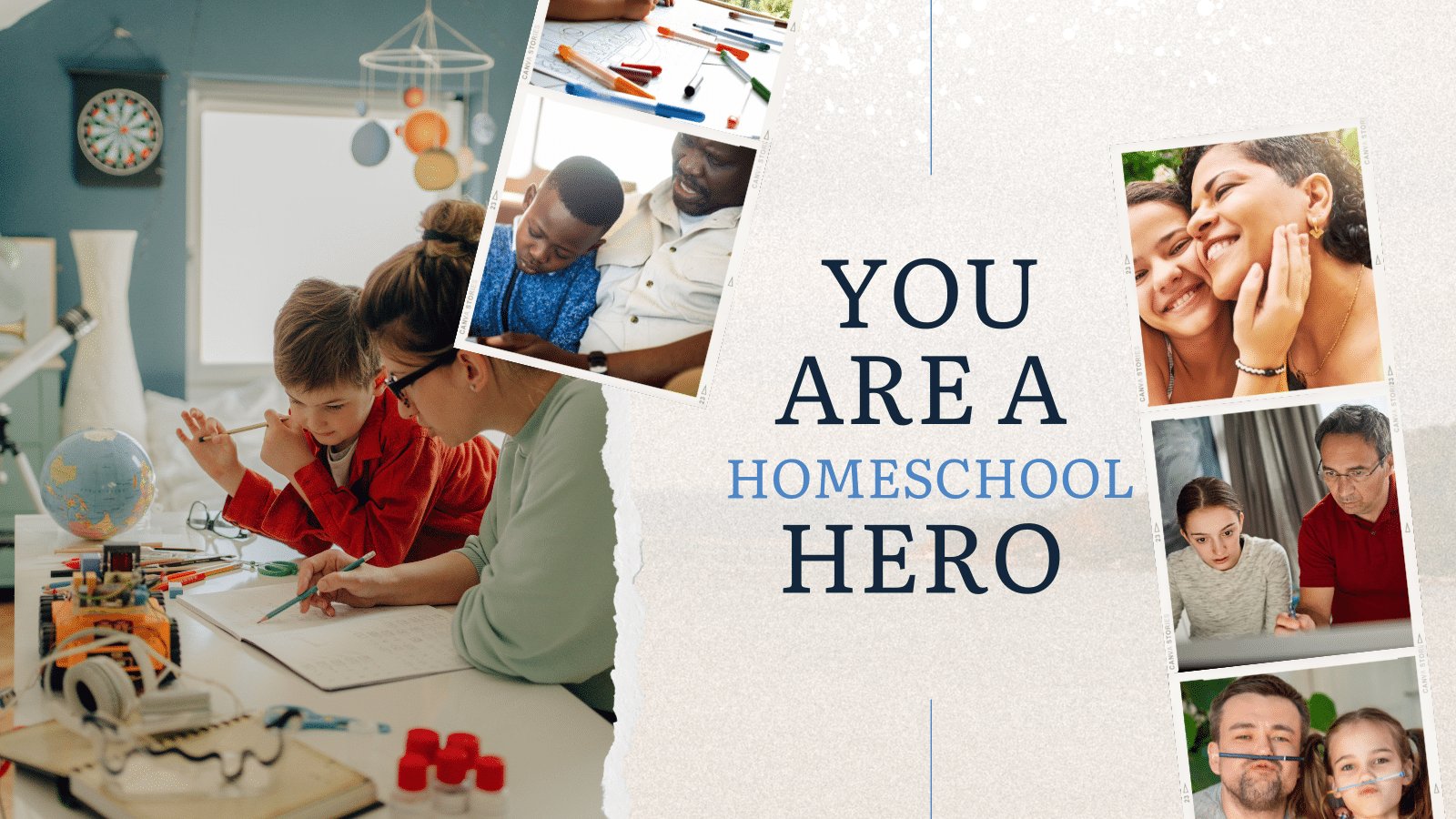 You Are a Homeschool Hero
---
It's been more than two years since that day in March 2020 when American schools closed their doors and the word "coronavirus" forced its way into everyone's vocabulary. Suddenly, the education of millions of children and teens ground to a halt. Most parents, understandably in shock, waited for government schools to provide a workable solution.
But there were parents who refused to abandon their children's future to the mercy of an unpredictable virus and a dysfunctional bureaucracy ill-equipped to respond. Like you, these parents stepped up and took charge of a difficult situation, choosing to take responsibility by teaching their kids themselves.
You are a homeschool hero. As a matter of fact, you are "da bomb"! (That's a good thing.) Your family believes in you. Now it's time to start believing in yourself.
Yes, homeschooling is hard, and it does require sacrifices. But your children are already reaping the benefits, and you're probably noticing clear signs that the long-term rewards are well worth the cost.
Still, you have nagging doubts that you've personally got what it takes to see this thing through.
Some Doubts
I can relate. When Rachael and I started (reluctantly) back in 1996, we sought advice from every person on the planet we knew who was homeschooling—all three of them. Seriously. In those days, very few families walked this path less traveled. And did I mention that home education was definitely NOT in our plans? God had to hit us upside the head with a providential two-by-four to get our attention. Even so, our first year of homeschooling was so hard, we seriously considered quitting.
Right now, you too might be feeling overwhelmed with questions, fears, and concerns. For starters, how can you know if you're using the right curriculum for your kids? How do you choose wisely from among the many different resources out there? And what's all this talk about "learning styles"?
Then there's the question of how a particular curriculum will affect your children. Will they be able to compete in the global marketplace—let alone do their reading, 'riting, and 'rithmetic—once they leave the nest?
And what about their faith? Will the curriculum you choose to draw your kids closer to the Lord, or lead them to pull them away? For example, don't most science courses teach evolution as fact? These are real and legitimate concerns for Christian parents. Sadly, research shows that 60 to 70 percent of children who grow up in Christian homes become skeptics or reject the faith entirely after the age of eighteen. So you definitely want to find a curriculum that incorporates a biblical worldview.
Once you settle on a curriculum for each subject and each unique child who is working at his or her own pace and skill level, how can you possibly organize all the different lessons?
More Doubts
Biology, chemistry, physics—can you teach high-school-level science? It's a fair question. Many moms and dads worry about their ability to teach their kids through middle school and high school, especially in the areas of science and math. After all, how can any parent do what most people think it takes a building full of "experts" to do?
Maybe the answer is to enroll your student in an online academy. During the early days of the pandemic, many students experienced online instruction for the first time. In most cases, however, it was a complete disaster. Most teachers were not equipped to teach in an online setting, and Zoom fatigue quickly became something of a pandemic itself.
Then there's another issue in the back of your mind, one that's currently on low boil but could become a bigger concern: One of your kids is strong-willed and easily distracted. You just don't know if you can teach him or her since you tend to butt heads more often than not. As you homeschool and spend more time together, can your relationship survive?
Given all these concerns, you may be ready to give up before you've barely started. But please keep reading. Things are about to get a whole lot better.
Apologia is the #1 publisher of Creation-based curricula for homeschooling families. When you homeschool with Apologia resources, you will find your questions, fears, and concerns soon giving way to encouragement, inspiration, and hope for the future.
Positive Results
Today, colleges and universities are actively recruiting homeschool graduates. One reason is that homeschooled students have consistently shown themselves to be more serious about their education than their public and private school counterparts. They also tend to exhibit strong moral character, diligent study habits, and time management skills—qualities that lay the groundwork for achievement at the university level.
Numerous homeschooled students who grew up on Apologia curricula and resources have gone on to excel at college and in their careers. Many have earned scholarships and graduate degrees, particularly in fields of science. Most importantly, Apologia students are succeeding in life.
We love to hear from parents and students who tell us how an Apologia course has strengthened their walk with God, thus confirming the importance of our mission: helping homeschool families to learn, live, and defend the Christian faith.
A word about teaching a strong-willed child: You may be concerned that you and your child could end up going at each other's throats when forced to spend so much time together. Rachael and I had this same concern, as our firstborn was a textbook strong-willed child—the kind that improves your prayer life, if you know what I mean. Yet I remember when, a few months into our first year of homeschooling, I looked into Rachael's eyes and said, "I think your relationship with Charles is actually getting better, not worse." She agreed that spending more time together had actually made it possible for their relationship to improve. This was the kind of thing that made us think, "Hmm. What kind of work is God doing in our family? Maybe we don't have all the answers as we thought. Maybe—just maybe—God is using homeschooling to increase our faith to trust in Him."
Indeed, homeschooling is a literal walk of faith. I challenge and encourage you to stay the course and continue this adventure of a lifetime. It may be the best thing you ever do for your faith, as it will require you to trust God like never before. I can certainly testify that this has been true in my own life. I thank God every day for twenty-six years of using our homeschooling to stretch my faith, grow my character, and teach me that His ways are higher (and far better) than my own.
You Can Do This!
Remember, you're not alone in this. Homeschooling is the most significant cultural, social, and educational movement of the last fifty years. Today, there are more resources and support groups available to homeschool families than ever before.
So don't leave your kids' education in the hands of failing public schools or expensive private schools. You do have what it takes to teach your children. Help them become lifelong independent learners. Cultivate in them a love for reading, learning, and exploring God's creation. Give them a firm foundation for life built on the solid rock of God's Word. Ensure that every subject they study is taught from a biblical worldview.
Homeschooling. You can do it. And it's good—really good—for your kids.
If there was ever a time to homeschool, it is now!
Walking by faith and enjoying the homeschooling adventure of a lifetime!


Davis Carman
---
A Resource to Help
A Resource to Help
When the COVID-19 pandemic struck, all 60 million K–12 students in the U.S. were sent home, which was and remains the safest place for them to be. For many who tried homeschooling as an alternative, the experience was more than they ever thought possible. Their preconceived ideas of homeschooling were shattered, and they never looked back. Others couldn't deny the positive aspects of teaching their kids at home but struggled to make it work. They needed help to gain the confidence required to do it well and joyfully.
If this is you, then you need the following video course. The title says it all: How to Homeschool with Stunning Confidence, Contagious Joy, and Amazing Focus. The course includes fifteen videos, each about ten minutes in length, in which Rachael and Leslie answer the most commonly asked homeschool questions and provide the tools to help you start, navigate, and complete your own homeschool journey. You can rent or buy the course and watch the first lesson right away by following this link.
Discover How to Homeschool with Stunning Confidence, Contagious Joy, and Amazing Focus!
Davis is the president of Apologia Educational Ministries, the #1 publisher of Creation-based science and Bible curriculum. He is the author of five illustrated children's books designed to help parents instill a biblical worldview in the hearts and minds of their preschoolers. He believes that if there was ever a time to homeschool, it is now! You can hear more of what he has to say at the Let's Talk Homeschool Podcast.
© 2022 Davis Carman