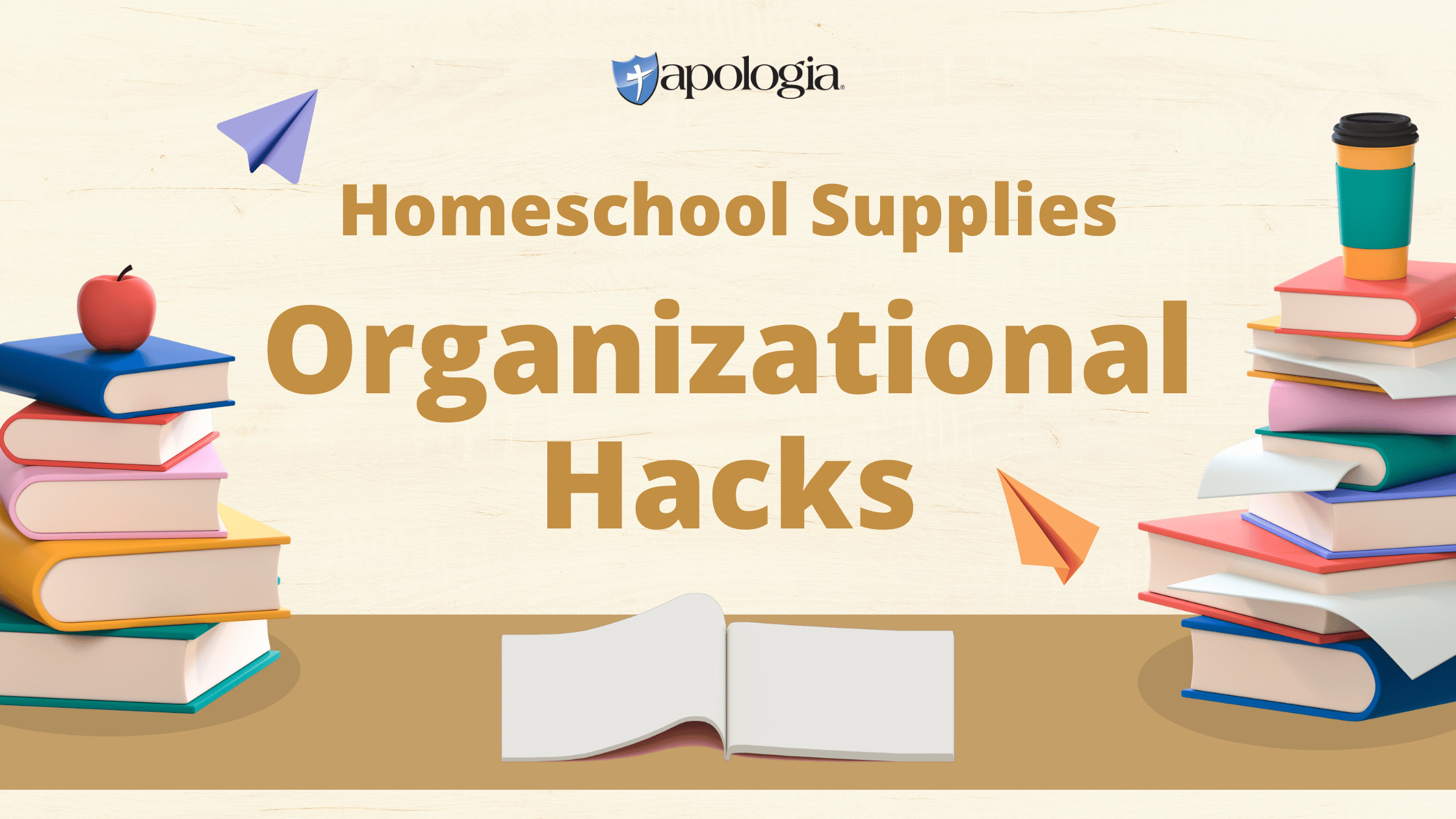 Homeschool Supplies Organizational Hacks
---
Raise your hand if you feel a sense of peace when things are organized, and everything is in its place. Imagine having everything you need for a successful homeschool day in one place without all the clutter! Does that sound like a pipe dream? Well, maybe it is, but here are some tips to help get you a little closer to that dream! Check out these homeschool supplies organizational hacks for more efficient homeschool days!
Folders, Baskets, and Shelves, Oh My!
Organize your supplies in folders, tubs, bins, baskets, or shelves by student or by subject – whichever makes the most sense in your homeschool.
Our math and science curriculum works really well for this method! Everything you need to complete the various hands-on activities for the entire year is provided as a supply list in the book! Put everything you need in a box labeled "Math" or "Science," and simply take out the items you need for the lessons you plan to get through each day to minimize clutter or losing things!
---
Chalkboard Wall
Paint a chalkboard on your wall to help organize schedules, display a calendar, or share a visual learning lesson in your homeschool!
Homeschool planners are perfect for keeping track of your schedule on the go and for planning ahead, but if you want something for the whole family to easily see, copy the information from your planner onto a chalkboard wall calendar each day, week or month! Or, simply use the chalkboard for writing down reminders and instructions to minimize repeating yourself.
---
Wall Space
You don't have to stack bulky tubs or use all of your closet space to tidy things up. Take advantage of the free wall space you have by hanging some mounted shelves or hooks. This will help you to clear off those tabletops and free up your treasured storage space.
Another benefit of this tactic, is that it keeps your supplies at eye level, making them easy to find and quickly grab when needed!
---
Rolling Carts
Keep all of your school supplies in one place with a portable rolling cart! You can designate one per student, one per subject, or put everything together! It's all up to you, and what works best for your homeschool.
If your family enjoys the freedom to school in different rooms, outside, etc., you can't go wrong with the portability of a rolling cart. Just roll with it!
---
Online Learning
Another option if you're running low on space is to keep school as virtual as possible! Apologia offers a variety of Live Online Classes and Self-Paced digital curricula that are almost entirely completed on the computer. You can learn more about each of these programs below!
Live Online Classes
Apologia's Live Online Classes for grades 7-12 will enhance your student's learning with online, interactive teaching from brilliant instructors. With over 40+ classes to choose from, Apologia's qualified teachers assist students in learning the materials and mastering the subject. Apologia's live online classes have been voted #1 for science and Bible.
Self-Paced Digital Homeschool Curriculum
Self-Paced by Apologia is a digital curriculum product that includes the same award-winning Apologia science courses your family has always enjoyed and trusted. It is designed to provide students with a flexible, personalized, and interactive learning opportunity.
The self-paced courses include a digital version of the textbook, audio narration, video instruction, automatically graded assessments and exams, and more.