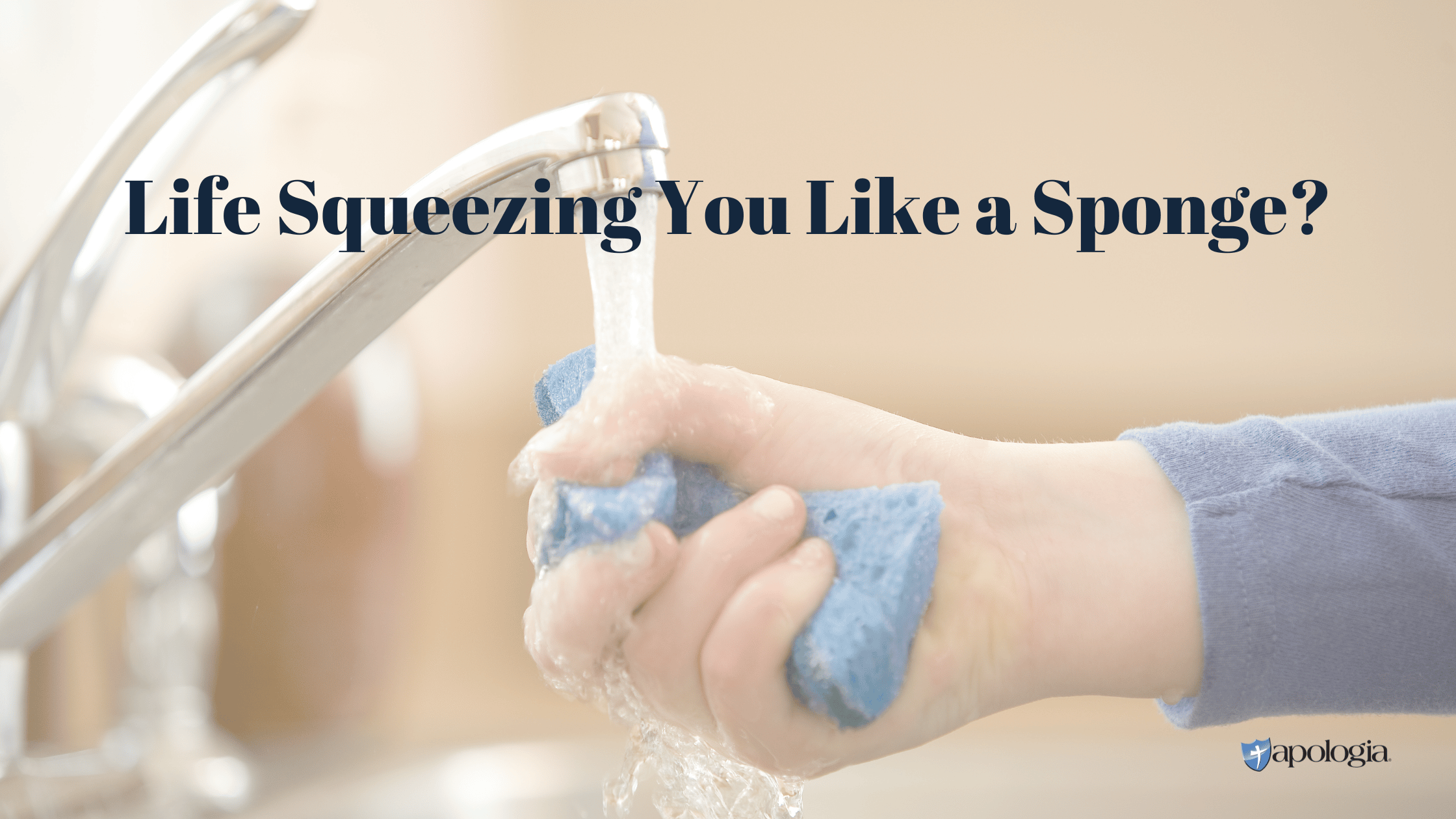 Life Squeezing You Like a Sponge?
---
Jesus stood up and cried out, "If anyone is thirsty, he should come to Me and drink! The one who believes in Me, as the Scripture has said, will have streams of living water flow from deep within him." (John 7:37–38)
How do you spend the first hour of each morning? Do you pray in the early morning hour? Do you make time to exercise? Take a walk with God? Does your breakfast consist of bagels and coffee or the Bread of Life? Do you often find that you're already behind before you've even started your day? Do the concerns of life rush in and fill your mind with worry when you try to catch a quiet moment before the kids wake up?
In other words, would you describe your typical morning as beginning in Christ or in chaos? Are you starting out each day by soaking in Scripture or starving yourself of the sanctifying truth of the Word of life?
Picture a day immersed in the Bible. Your mind is completely filled with the truth of His Word, to the point that your thoughts can hardly absorb another ounce of wisdom. The Holy Spirit is guiding you gently towards discernment and understanding in matters that otherwise would cause you to worry. You can feel your faith flex its muscles. You are resolute and prepared to stand strong against any fiery arrows the enemy may send your way.
Then it happens. An unexpected trial presents itself. You receive some bad news. Life happens. Do you panic? Do you grow faint?
If you are like a sponge, soaking in His Word each day, then when life squeezes you, what do you suppose will come out? His grace, hope, love, and faith will pour forth because that's what was inside you! But if you are little more than a dried-up husk, if you haven't made a habit of taking in His living water and being refreshed daily, then when you find yourself caught in the vise grip of life, nothing good will come out and you will feel utterly helpless.
Don't find yourself dry and empty when troubles arise. Soak daily in Christ and the sanctifying, truth-filled, living Word of God. Then you will be much more prepared for something good to emerge when life squeezes you like a sponge.
Dear Father in heaven, help me to daily soak in your Word, to spend time listening to you and submitting to the Holy Spirit. May I be filled with your love and grace and joy every day so that I will persevere when life gets hard. May I always seek You first so that I come to shine like a star that points people to Jesus Christ, whatever my circumstances. I ask this humbly in Jesus' name. Amen.
Walking by faith and enjoying the homeschooling adventure of a lifetime!
© 2018 Davis Carman
DavisCarman.com
Apologia.com
Davis is the President of Apologia Educational Ministries, the #1 publisher of Creation-based science and Bible curriculum for homeschooling families. He is the author of five illustrated children's books designed to help parents instill a biblical worldview in the hearts and minds of their preschoolers. He believes that if there was ever a time to homeschool, it is now! Davis's four books include: Good Morning, God, based on Deuteronomy 6, A Light for My Path, an ABC book based on Psalm 119, In the Beginning, based on the Creation account in Genesis, and Psalms to Know Early.
If you enjoyed this article by Davis Carman, check out HEART Exam for Homeschool Dads (and Moms) or Repentance: Rend Your Heart, Not Your Garments