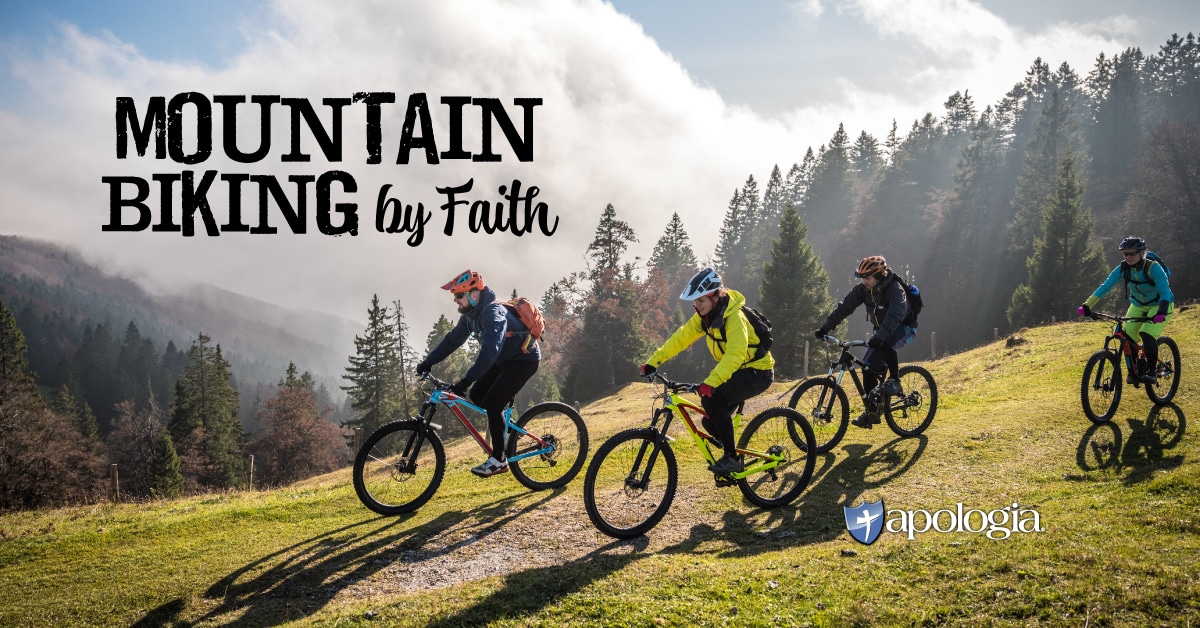 Mountain Biking by Faith
---
Look to Jesus. (Hebrews 12:2)
I often end my messages by saying that I am walking by faith and enjoying the homeschooling adventure of a lifetime. I've written catalog and blog articles describing how home education is a walk by faith.
I recently took up mountain biking. I love the time it gives me outside in God's creation. Plus, it requires mental toughness to focus on the trail, as well as skill and technique to navigate the obstacles. And of course, it also gives my body a hearty workout.
On a recent ride, I realized that there are many similarities between mountain biking and the Christian walk. Here's my quick comparison.
Look to a Distant Point to Keep a Straight Line

When riding over logs or long, narrow bridges, you want your tires to stay on the wood and not fall off the side. Otherwise, a potentially nasty fall could result. The best way to stay true is to look to a distant point. If you look too closely at the ground, you'll likely start veering off course and find yourself overcorrecting. Not good.
Hebrews 12:2 reminds us that we should be "looking to Jesus, the founder and perfecter of our faith." And don't forget Peter. When he kept his eyes on Jesus, he literally walked on water. Once he took his eyes off The Master, he started to sink (Matthew 14:22–33). Oh, that we would walk by faith and keep our eyes on our Lord and Master!
Speed is Your Friend
On a mountain bike, it's easy to lose your balance if you go too slowly. Keeping up a good speed actually helps you maintain better balance. And balance is your friend. Therefore, speed is your friend. You don't want to go too fast, but much like my first point about focusing on something in the distance, maintaining your speed also helps you keep the bike on a straight line when encountering obstacles such as a long, narrow, winding bridge.
The Bike Will Do the Work for You
My new mountain biking interest included researching the right equipment. Mountain bikes have come a long way in the last ten or twenty years. Mine has a lightweight aluminum frame, dual suspension, hydraulic disk brakes, heavy-duty pedals with gripping spikes, a 50-tooth low gear among the eleven speeds, 27.5-inch extra-wide tires, and a quick-drop seat.
In the Christian life, there are plenty of times when you're tempted to "save yourself" when the best approach is to rely on Jesus. He'll gladly do the heavy lifting for you, and there's no doubt He's completely capable. In other words, you really can do all things through Christ, who is your strength (Phil. 4:13).
Dear God,
Thank You for staying by my side as I walk by faith. Help me to keep my eyes focused on Jesus and not get distracted or be afraid by the obstacles in life's journey. I want to persevere and keep moving. When temptations come my way, remind me not to stop and entertain sin. Instead, put a fire in my belly to keep walking and, when necessary, to run Your way. I am relying on You to either calm the storm around me or calm my spirit when You need me to stand strong in the middle of big and scary waves. You got this, so I put my trust in You and You alone. In Jesus' Name I Pray. Amen.
Walking by faith and enjoying the homeschooling adventure of a lifetime!
Davis Carman
© 2020 Davis Carman
Davis is the president of Apologia Educational Ministries, the #1 publisher of Creation-based science and Bible curriculum. He is the author of five illustrated children's books designed to help parents instill a biblical worldview in the hearts and minds of their preschoolers. He believes that if there was ever a time to homeschool, it is now! You can hear more of what he has to say at the Let's Talk Homeschool Podcast.