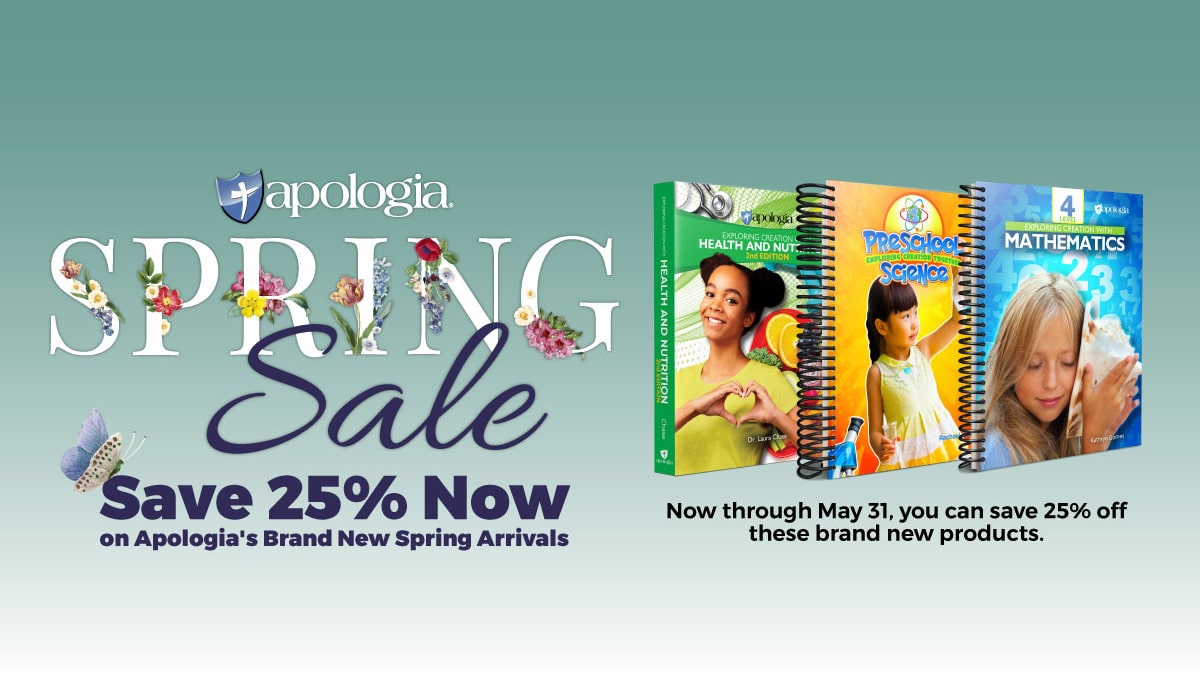 New Season, New Site, New Products, New Sale
---
Summer is almost here! Whether your family does homeschool all year-round or takes a summer break, it's an exciting time. There are so many opportunities to learn and spend quality time together outside, enjoying God's creation when the weather is nice. Trips to the zoo, seashell collecting at the beach, touring national landmarks or parks– a wealth of knowledge and fun, family memories are at your fingertips this time of year.
Of course, with new seasons comes change – and this season is no different. At Apologia, we have a lot of new things coming your way. To start, many of you may have already noticed our brand new, refreshed website! Our team has been hard at work to bring you a beautiful new website with an upgraded shopping experience, a colorful layout, and simplified navigation. We hope and pray that this new website will serve homeschool families well.
Secondly, our 2022 products have officially been released! This year we have three exciting new titles to come alongside your family's homeschool journey, for students from preschool to high school!
Introducing Preschool Science
Author Rachael Yunis has written an incredible resource to get your preschooler off to a wonderful start on all things science! Using Preschool Science: Exploring Creation Together in your family's homeschool is also a great way to get your younger children involved while teaching the older ones!
Preschoolers have plenty of interests and curiosity at all times. They're preloaded with lots of "Why?" Preschool Science: Exploring Creation Together is designed to help you add the "How and Wow" into your child's daily activities. It's a curriculum that is full of hands-on, minds-on, and hearts-on activities that develop the most vital learning tools your child possesses – unique God given talents and abilities! Through guided exploration of their world, young children discover how to naturally incorporate all aspects of language (expanding vocabulary), math (counting and recording), science (observing and experimenting), and art (drawing out ideas) into their understanding of how their world works. Most importantly, your child will come to understand that our world is wonder-full, peace-full, and beauty-full because God created it full of His love and wisdom.
Here are just a few quotes from customers who have used one of Rachael's other titles!
"We really dig this curriculum. I'm impressed with it as a parent, too, because…The biblical worldview and how it ties into each scientific principle and the super easy activities that I actually DO have the stuff on hand for. Most (curriculums) say it's stuff you have, but then it really isn't. This is our first curriculum from y'all, and we will be staying with you, for sure."
"I'm an R.N., and was very impressed with the level of detail and how complete it is. I'd say it's almost on level with a college-level anatomy class. My 10th grader is using this for his science this year and has learned a lot."
"My son used this book during his homeschool high school years. He loved it so much that it influenced him to become a Biology major in college. We were impressed with the high level of preparation this book gave him."
Math Level 4 Released
We are excited to release Exploring Creation with Mathematics, Level 4, written by Kathryn Gomes, as the next level in our Exploring Creation with Mathematics series
Exploring Creation with Mathematics, Level 4 was designed to encourage your child's thinking to soar to new heights on a joyous journey discovering new things about the world and its Creator. In level 4, students learn addition, subtraction, multiplication, division, data collection and graphing, fractions, and geometry. This hands-on, interactive curriculum also encourages your child to ponder creation on a new level.
Exploring Creation with Mathematics series has been received extremely well by parents and their children. We can't wait to see what wonderful results are shown through level 4! Here's what some parents have had to say about this series so far!
"I have to tell you that your math program is not only working incredibly well for my child, but it is one of the few programs that doesn't make me dizzy looking at it! So many others include, in my opinion, far too many concepts within each lesson. I love the layout of Exploring Creation with Mathematics. Each lesson incorporates mastery with a smidge of spiral review included. It's the perfect blend for my son without the overwhelm…"
"We purchased Exploring Creation with Mathematics, Levels 1 & 2 for my two children. Last year, my daughter was often in tears when she was doing math. However, this year she gets excited once she starts her lesson for the day; she loves it! Thank you!"
"We are several weeks into our Apologia Math book, and my daughter begs to just do one more lesson at the end of every day! Thanks for such a fun math adventure."
"This math curriculum has been a game changer in our house! I would battle so much with my daughter over math. Now, she asks to do it first and sometimes completes more than what is required! Thank you for releasing a product that has given me confidence we can continue homeschooling without the fight everyday."
"I simply cannot say enough about your AMAZING math program!!! It is PERFECT (how I wish we had had it for my 3 older children, 2 of whom are very right brained/creative — this would have made math an absolute delight for them!)…This child who hated math last year is finishing up ahead of schedule and wants to keep going rather than to take a break until the fall!!! Thank you so much!"
New Edition of Health and Nutrition
We have officially released the highly anticipated Exploring Creation with Health and Nutrition, 2nd Edition!
This high school health and nutrition curriculum explores the physical, social, mental, and spiritual concepts that are needed for a healthy lifestyle. With detailed illustrations and photos, clear explanations, and enhanced readability, Exploring Creation with Health and Nutrition, 2nd edition covers what maturing students need to know to help them make the best choices they can for themselves as they become young adults. With new and updated content, the 2nd edition continues to illuminate for students that health is about stewardship: managing what you have as well as you can. This course is for high school credit (1 or 2 semesters tailored to your needs).
Students have enjoyed Exploring Creation with Health and Nutrition, written by Dr. Lara Chase, for many years, and we know that you'll find our 2nd edition to be even better! Here's what customers have had to say about Exploring Creation with Health and Nutrition!
"Apologia's Exploring Creation with Health and Nutrition is not only teen-approved, but it's also my teen's favorite subject. And, not just this year. It's her all-time favorite in her entire homeschooled existence!"
"This course has everything we need for our health and nutrition credit all in one place. This curriculum is comprehensive and covers it all. I'm so glad to not have to piece together resources to meet the requirements for this high school credit!"
Shop and Save
We are celebrating our newest releases with a brand new Spring Sale! Use promo code: SPRINGSALE to receive 25% off your order of any of our new products this month!
We're also offering 25% off Bible curriculum, The Word in Motion, this month with promo code: LEARNTHEBIBLE!
So don't wait! Shop now and stock up for your upcoming school year!