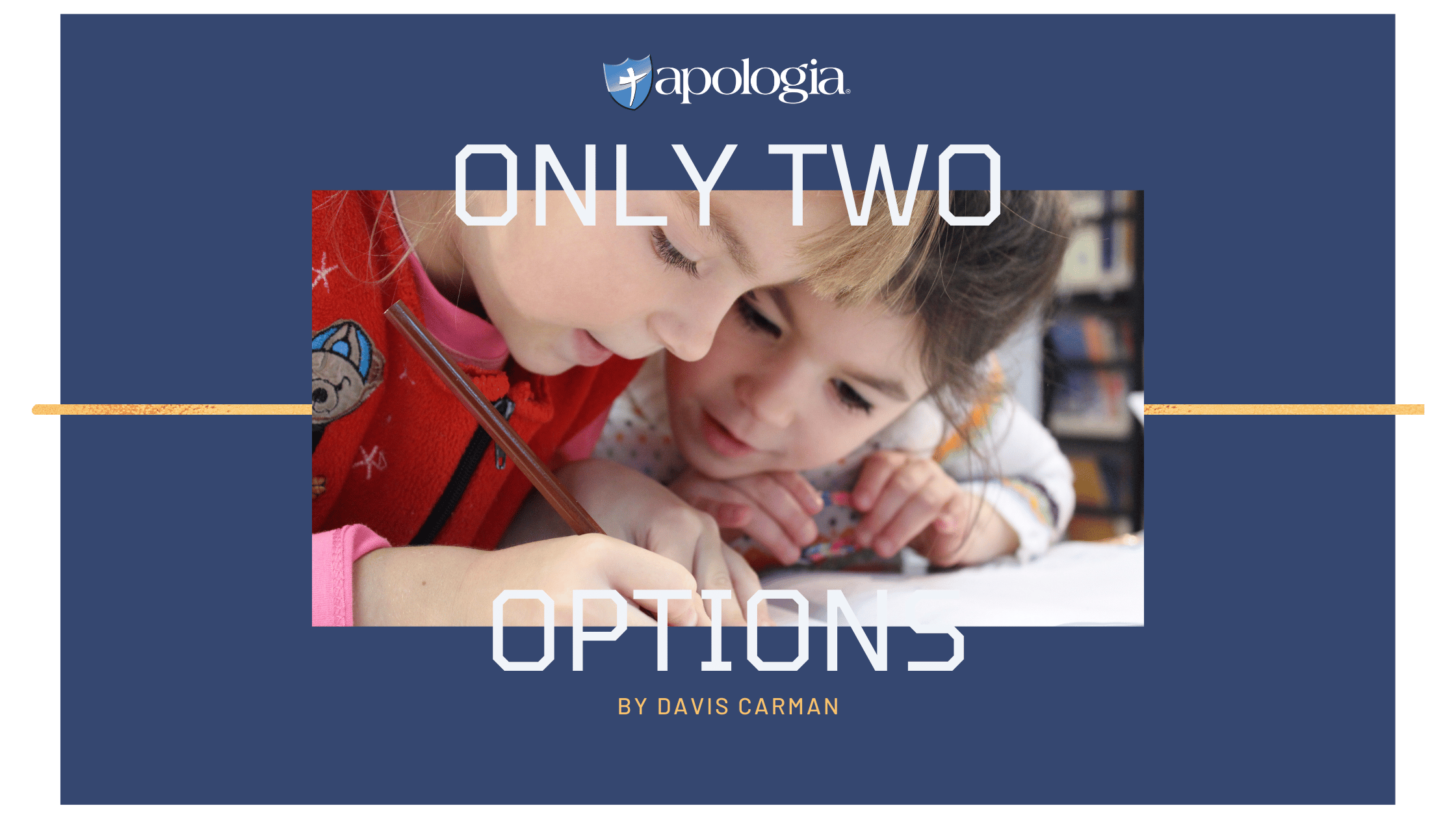 Only Two Options
---
May is a month for graduations. At the Carman home, we'll celebrate a homeschool graduation this Saturday. But it's not our first rodeo. As a matter of fact, this will be our seventh and final ceremony complete with all the fixings: food, dessert, speeches, pictures, dancing, and more. I'll be sure to take it all in and soak every minute into my memory banks.
I remember when we graduated our oldest in 2009. We have a picture of our graduate, Charles, sitting at a table with his youngest brother, Ben. Thirteen years separate them. We were just finishing our thirteenth year of homeschooling back then. Suddenly I realized we were halfway through this journey. Now, in the blink of an eye, we've reached the end of another 13 years. That's 26 total years! Wow.
Looking back over the past 26 years, I think of all the change that has happened in culture and schools. We began our homeschooling journey in the minority — we were the fringe, the crazy people. Not everyone knew a family who homeschooled their kids. As the homeschool population grew, we reached a point at which most people knew at least one other family who homeschooled. We earned a little bit of respect. We weren't all weird. But most people (even fellow church members) didn't know what to do with us.
Then 2020 hit, complete with a pandemic. American schools closed their doors, and the word "coronavirus" forced its way into everyone's vocabulary. Suddenly, the education of millions of children and teens ground to a halt. While most parents, understandably in shock, waited for government schools to provide a workable solution, other parents refused to abandon their children's future to the mercy of an unpredictable virus and a dysfunctional bureaucracy ill-equipped to respond. Like you, these parents took charge of a difficult situation, choosing to take responsibility by teaching their kids themselves.
Today, as our family celebrates one final graduation, there are really only two educational options for you: a private Christian school or home education. They are both "expensive." With either option, you will most likely sacrifice time, finances, or career aspirations. You may have to step outside your comfort zone. And God might be calling you to walk by faith and rely on Him.
Part of the point is that public schools just aren't an option anymore, certainly not for Christian families wanting to train up their little ones to know and love God, His Word, and His creation. There is a liberal, anti-God, anti-American, anti-life agenda at work in the government schools, and parents absolutely must face this fact. They must resist this agenda and protect their children from it at all costs.
In case you are not fully aware of what's going on, let me explain. Starting in the late 1800s, the Enlightenment sought to create a utopia on earth, which anyone with a Christian worldview knows is impossible. God will indeed make all things new, but that day doesn't come until the end of time, after this heaven and earth are destroyed with fire. In the early twentieth century, Darwinism became dominant and set the stage for evolution to be taught as fact. In the 1960s, prayer was removed from school while sex education and drugs made their entrance. Next, postmodernism was introduced, teaching that truth is relative, nothing but a mere social construct that can change on a whim. As we moved into the 2000s, climate change became a full-blown religion, restating old Malthusian fears that overpopulation must be stopped. The result has been a second wave of cultural acceptance for abortion and birth control (the first wave being in the 1960s and '70s). In the most recent decade, the speed of ungodly errors has increased dramatically. Today schools are plagued with Critical Race Theory, LBGTQ+ indoctrination, teacher strikes (an annual tradition for 60+ years), and failing academic achievements (lest anyone forget the supposed purpose of school). As you can see, there are serious and worsening problems in the public schools. They are a dismal failure and simply not an option. Run away as fast as you can, and bring a friend with you.
Private Christian schools are an option, an expensive one, but viable. Just please don't leave your kids' education in the hands of failing public schools.
Homeschooling is the ideal — physically, mentally, emotionally, socially, spiritually, morally, academically… I could go on and on. It is the most significant cultural, social, and educational movement of the past 50 years. It is the ideal context for any child to learn in. Today, more resources and support groups are available to homeschool families than ever before. You do have what it takes to teach your children. Help them become lifelong independent learners. Cultivate in them a love for reading, learning, and exploring God's creation. Give them a firm foundation for life built on the solid rock of God's Word. Ensure that every subject they study is taught from a Christian worldview. You can do this thing called home education. And it's good for your entire family.
There may only be two options today, but homeschooling is #1.
Resources to Help
Are you concerned about what your kids believe about God, His Word, and His creation? How can they learn that science and faith are compatible with each other? Will the curriculum you choose draw your kids closer to the Lord or lead them to pull away? For example, don't most science courses teach evolution as fact? These are legitimate concerns for Christian parents. Sadly, research shows that 60 to 70 percent of children who grow up in Christian homes become skeptics or reject the faith entirely after age 18. So you definitely want to find a curriculum that incorporates a biblical worldview.
Apologia Science could be a great curriculum for your family. The courses are creation-based and written to the student in a conversational style, complete with notebooks and optional audiobooks or video instruction. Discover the wonder of Creation through Apologia's preschool, elementary, middle school, and high school science curriculum.
Walking by faith and enjoying the homeschooling adventure of a lifetime!
Davis Carman
Davis is the president of Apologia Educational Ministries, the #1 publisher of Creation-based curricula for homeschooling families. He believes that if there was ever a time to homeschool, it is now! You can hear more of what he has to say at the Let's Talk Homeschool Podcast.
© 2022 Davis Carman