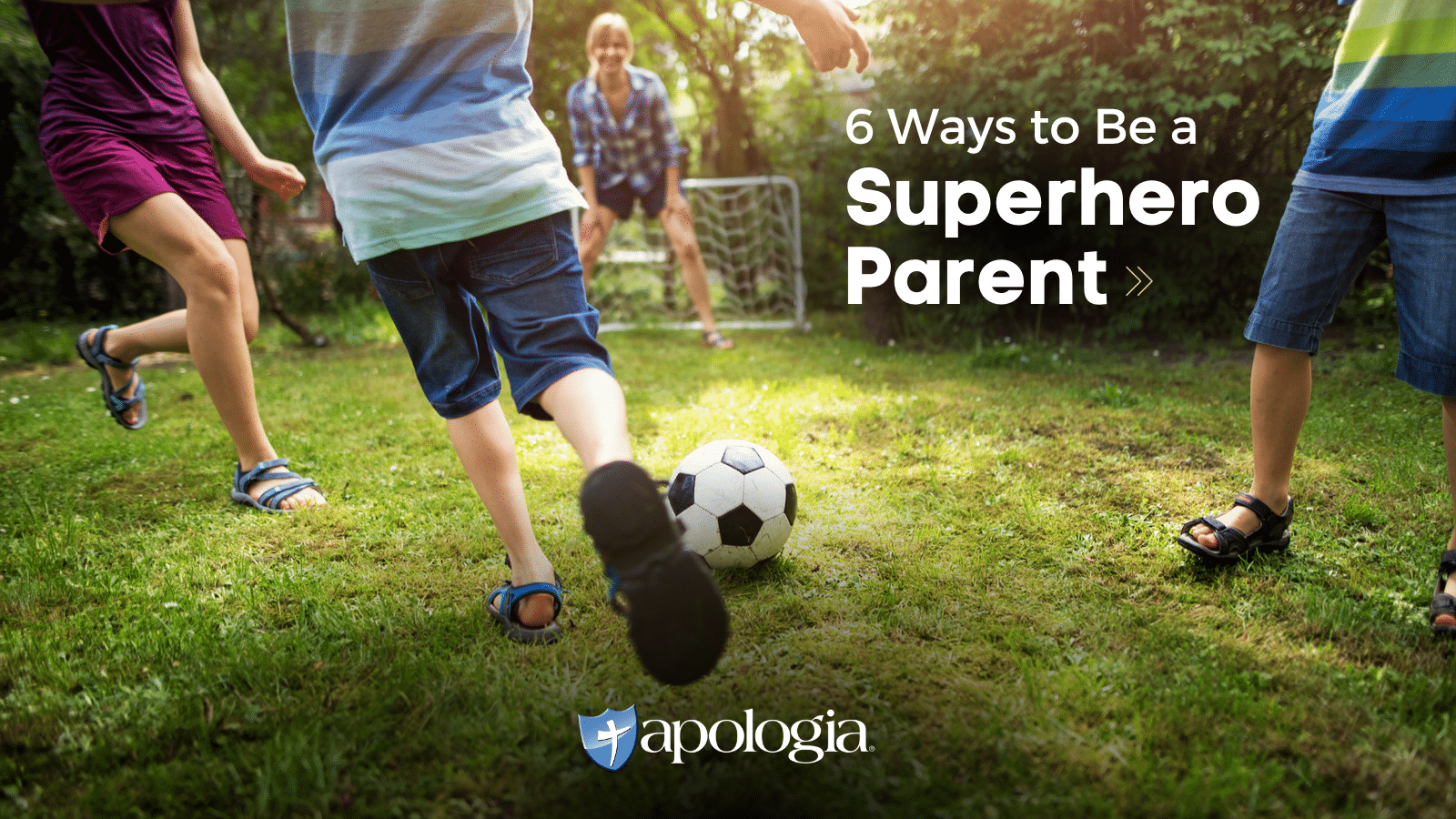 6 Ways to Be a Superhero Parent
---
With nice weather approaching, you might be thinking about how to keep your children occupied and out of trouble. You probably don't want them playing video games all day, and you certainly don't want them incessantly complaining about being "bored." As a homeschooling parent, you also might want to have a little bit of a spring break yourself in order to finish the school year more refreshed and energized. To help, here are six ideas for activities you could do with your kids right now.
#1 Play an Outdoor Game
For too many kids today, their only outlet is . . . well, an outlet. One way to help keep your children's brains from turning to macaroni & cheese is to get them outside and be active. It's pretty easy to pick a game or sport, teach them the rules (if they don't already know them), and then simply start playing together. Usually, the competitive nature of your son will come out and allow for teachable moments such as being a good sport, a gracious winner, or an even-tempered loser. There will also likely be times for both of you to learn patience as you encourage them to keep practicing as they fine-tune skills such as shooting a basketball, hitting a baseball, juggling a soccer ball, or throwing a nice spiral with the football. After an hour or so of running around, you'll both be exhausted, but in a good and healthy way.
#2 Read The Action Bible
Reading God's Word to your kids is certainly a good use of your time, especially when you want them to know God and love Him with all their heart, soul, mind, and strength. But is there a particular translation that can bring the stories to life, especially for the younger kids? I highly recommend The Action Bible as an option to help keep your young kids engaged in the amazing history, timeless lessons, and inspired messages found in Scripture. This artistic and colorful publication from David C. Cook is presented in a comic book format (there's an audiobook version, too!). You might think this would undermine the intent or seriousness of reading the Bible, but it actually presents the people, facts, and instruction in an accurate, exciting, and accessible manner. My young sons couldn't wait to gather by my side when I would announce that it was time to read The Action Bible.
#3 Talk About Sex
Moms and dads – do you really need to talk to your kids about sex? For everyone's sake, please make sure you talk to them about this important subject. Here's a hint: The earlier you start, the easier it will be. Putting it off till they're older will only make it more difficult to start or continue the conversation. You know they'll want to talk about it at some point, and it sure would be better if you're the one explaining things. One good option is to get a quality book written from a Christian perspective and simply read it to your son or daughter. Make sure you stop from time to time to answer his or her questions—both the ones that are actually verbalized and the ones you know he or she is keeping to him or herself. Pick a day of the week and set a time to meet, read, and talk about sex. Your relationship will grow closer as a result.
#4 Go Hiking and Camping
Boys, in particular, love the great outdoors. So how can you resist the opportunity to take your son on a camping trip and venture out on some rugged hiking trails? Fathers and sons are wild at heart and bond on a whole new level when surviving on the few supplies we can fit in a backpack. There are so many natural opportunities to teach and learn valuable skills while camping. These include starting a fire, pitching a tent, filtering water, cooking over an open flame, using a compass, identifying constellations, and following a trail. And let's face it—something wonderful happens when we're out among God's creation, where we can admire His handiwork, consider His ways, and meditate on His Word. And don't leave the girls out. They'll also love camping, hiking, and collecting leaves, acorns, and flowers while exploring God's creation. Just take the whole family.
#5 Give Them Paying Jobs
There's an old saying with a warning, "Idle hands are the devil's workshop." A great way to keep your son or daughter out of trouble is to give them work to do. And if you pay, then more lessons can be learned, including the value of money, the satisfaction of a job well done, finishing what you started, fiscal responsibility, and so much more. I suspect you have plenty of work that needs to be done around the house and yard. Walk around and make a quick list of everything possible. You might find options that include organizing the garage, cleaning the bicycles, washing the cars, mowing the grass, painting the shed, power washing the deck, and weeding the garden. Then, attach a dollar amount to each item on the list. Although you want to inspect the work, don't crush your child's spirit with words that could be discouraging. Make sure your own expectations are realistic. In other words, don't expect them to do the work perfectly.
#6 Be Their Team Coach
Getting your children physically active is good for their entire beings. In particular, boys are simply wired to move and be kinetic. Your young son is longing for something more than mere physical exertion or engaging in some kind of athletic event. He also wants to be like Dad, to be with Dad, and to learn from Dad. A great way to accomplish all of the above is to serve as a coach for your child's team. There's nothing like the feeling a young boy gets when his dad is the coach. It can actually be important for boys to refer to Dad as "Coach" in these settings. Your son is sitting on the edge of his seat, ready to listen and learn from a man whose position of authority means he must be an expert. Teach him the fundamentals, offer an abundant supply of encouraging words (even when he has plenty of room to improve), and join in the boys' high-five celebrations. Be careful not to be harsh or push your son beyond what he can handle, and don't crush his spirit. This is a time to help him soar and take him to new heights both physically and emotionally. Watch out, Dad. This may be fun for you, too!
Hopefully, it's obvious that any of the six ideas I listed can be applied to sons or daughters. You know your kids best. I'm hoping my list simply helped you think of ways you can be intentionally engaged with your children. Doing things together, sharing life experiences, and leading the way will make you a superhero in your kid's eyes. And that's a great feeling.
Creation-Based Resources for Your Homeschool
Apologia is the number-one publisher of creation-based science, math, and Bible curriculum for homeschoolers, with hundreds of number-one awards. Now that's impressive, but more importantly, that's why Apologia is trusted by families all across the USA and the world.
Homeschooling in the News
This is a new section I'm adding to my blog articles. Every month, I will find news articles that I think are noteworthy to the world of homeschooling and share some of those stories with you. I think you'll find them interesting too!
---
Counter-Cultural College Experiences Huge Growth
This article reports that homeschoolers flock to Patrick Henry College – a small Christian college that counters the Ivy League culture. The article highlights that PHC is "forming young people in all the right ways" and attributes much of PHC's excellence to its large homeschool population.
---
Thomas Edison: Failed in School, Thrived in Homeschooling
This article suggests that Thomas Edison should be the patron saint of homeschooling. Personally, I think it should be Edison's incredible mother.
---
Do People Belong in Nature?
This article shares how God always wanted His world to be cared for, and we are the right ones for the job. At Apologia, we love to encourage homeschooling families to "explore creation" outdoors to ignite a lifelong love of learning.
Walking by faith and enjoying the homeschooling adventure of a lifetime!
Davis Carman
Davis is the president of Apologia Educational Ministries, the #1 publisher of Creation-based curriculum for homeschooling families. He believes that if there was ever a time to homeschool, it is now! You can read more of his articles and devotionals at the Apologia Blog, and you can listen to a weekly message at the Let's Talk Homeschool Podcast.
© 2023 Davis Carman